The Big Island is the largest and most volcanically active of all Hawaiian islands. It is know for its beautiful nature and many cool activities and it is almost impossible to fit everything in your vacation – even if you stay more than a month! That is why we give you our personal highlights for the Big Island: as an efficient way to get to know our favorites of Hawaiʻi.
Table of Contents
The Big Island in a nutshell:
The Big Island is officially known as the island of Hawaiʻi and received this nickname for a good reason: it is the largest island of the United States with a total surface of 4,029 square miles (10,433 square kilometers)! Its surface area is also greater than that of all other Hawaiian island combined.
The 206,315 inhabitants of the Big Island (which is only 14.3% of the total population of the state of Hawaiʻi, 2022 census) mostly live in and around the two large population centers in the island: Hilo (the capital) on the east coast, and Kona on the west coast.
The Big Island is twice the size of as #Delaware and almost four times as large as #RhodeIsland!🏆🏆 #Alaska (142x), #Texas (65x) and #California (39x) are still quite a bit larger than the #BigIsland though 😒 #HawaiiFacts
twitter share
click to tweet
Despite these impressive figures the state of Hawaiʻi actually is pretty small: there are only 3 states (Connecticut, Delaware, and Rhode Island ) with less land surface than the aloha state. Yet, our "small" Big Island is home to 8 / 13 of the climate zones in the world, and there are many fun, exciting and accessible activities possible for you to explore it.
The following video is a great introduction to many of our favorite spots, and includes footage of: Waipiʻo valley, ʻAkaka falls, Rainbow falls, the Kona coast, Mauna Kea, Pololu valley, dolphins, a manta ray, and much more. Video credits go to Tyler Fairbank from Light Owl Productions.
If you are interested in reading more about Hawaiʻi we recommend the following two pages: One with 3 reasons why we think the Big Island is so incredible impressive, and  the other with 40+ facts about Hawaiʻi.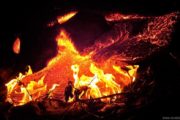 The Big Island is home to the tallest sea mountain and the largest volcano in the world, and has 8/13 climate zones! These are our Favorite Hawaiian Records.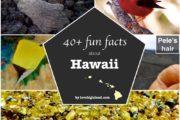 "Did you know" fact sheet for the Big Island. Collection of interesting facts, fun trivia and little-known gems of knowledge about Hawaii. Surprise yourself.
Our favorite beaches on the Big Island
If you like beaches you are in luck. The Big Island is a true paradise, and has quite some amazing white, black, and green sand beaches!
Our hands-down favorite beaches on the Big Island are Hapuna and Mauna Kea beach (white sand), Punaluʻu beach (black sand + turtles!), and Papakōlea (green sand). Read more about these beaches in the following guides: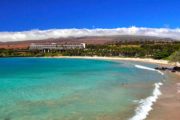 A family beach good for sunbathing and snorkeling, Mauna Kea Beach is one of the prettiest white sand beaches of Hawaiʻi!.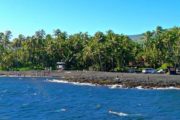 Punaluʻu beach is the most famous black sand beach of Hawaii. It is easily accessible and great for swimming, seeing turtles, and snorkeling..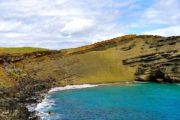 Guide to visiting Green Sand Beach (Papakōlea) with driving directions and hiking tips for one of two(!) green sand beaches in the USA.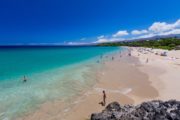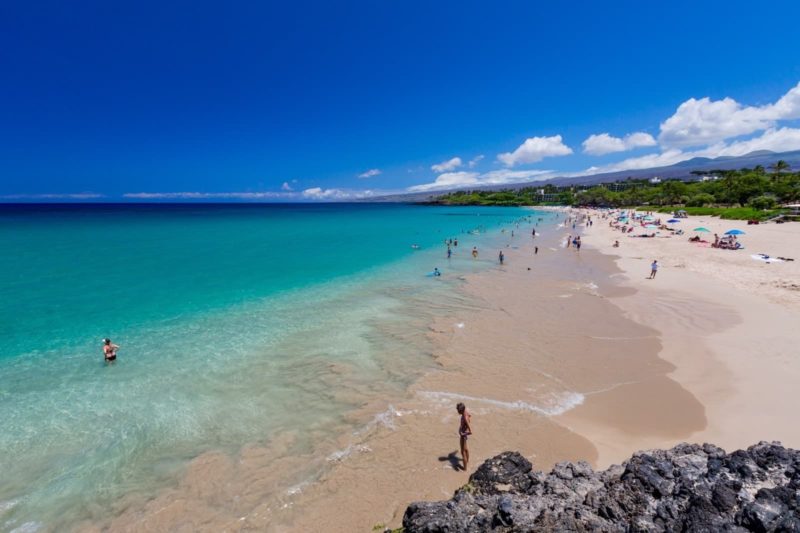 Great for suntanning and swimming and consistently voted among the best beaches of Hawaiʻi, Hāpuna is one of our favorites beaches!.
Do you want to know where black and green sand come from? Easy: lava and crystals! Read more about why the sand is white/green/black on these favorite Big Island beaches.
Popular activities on the Big Island
The Big Island spans 8 out of the world's 13 climate zones and the activities you can enjoy here are almost as distinct. Our personal favorite things to do for the Big Island are the following:
First of all, there is of course the lava. You can also snorkel over tropical reefs and enjoy a sunset snowball fight on the summit of Mauna Kea a few hours later. And then there is, of course, the unforgettable Manta Ray night dive. Read more about these 4 fantastic activities in our guides linked below: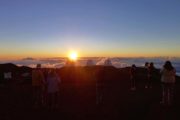 Visit Mauna Kea on the Big Island (Hawaiʻi) yourself or with a tour. Free stargazing, BEST sunsets and sunrises, and how to go to the summit.
This Kona excursion is our #1 FAVORITE thing to do on the Big Island! See the mantas up close with the Manta Ray Night Snorkel or Dive.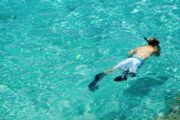 Our favorite snorkeling spots + safety tips. Learn where to rent snorkel gear, how to find the fish, and if you should book a snorkel tour.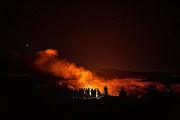 The eruption has paused - how to SAFELY see lava on Hawaii. Plan your own adventure and read about our favorite volcano and lava tours.
You can also find an overview of all activities on the Big Island on our website. These guides are styled in a DIY fashion and explain how you can best plan everything you want to do, yourself.
If you are more interested in other people doing the planning you should definitely have a look at our new curated tour section, where we list a small amount of tours that we know and love, that receive consistent high praise and good reviews, and that give back to the community and try to minimize their impact on the environment.
Favorite Sights and Destinations
Get the lay of the land with our list of the most popular sights and destinations. In our list of most popular sights and destinations we break your options down into different categories to help you on your way. Our list includes the most visited places as well as outdoor, cultural, and kid-friendly points of interest. We conclude with scenic spots and a couple hidden gems that we think are well worth a visit.
Curious? read more in our list of sights and destinations on the Big Island.
Local food and snacks
Many people tend to forget about the culinary side of their vacation, which is a real shame! The Big Island is one destination where you should do anything to avoid that trap because food here can be so different from what you can find on the mainland.
It is easy (and tasty!) to find local food in restaurants, farmers markets, supermarkets or, at the source, the farm/orchard.
Malasadas (Portuguese sugared fried dough snacks) are a tasty snack for when you are on the road. The combination of Kalua pig with one of the many locally produced micro brews never gets old, and don't leave the Big Island without a taste of one of the world's most famous coffees: Kona coffee.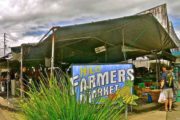 List + map of farmers markets on the Big Island. Directions + opening times for local markets near Hilo, Kona, Volcano village and Waimea.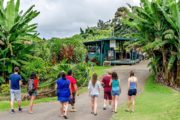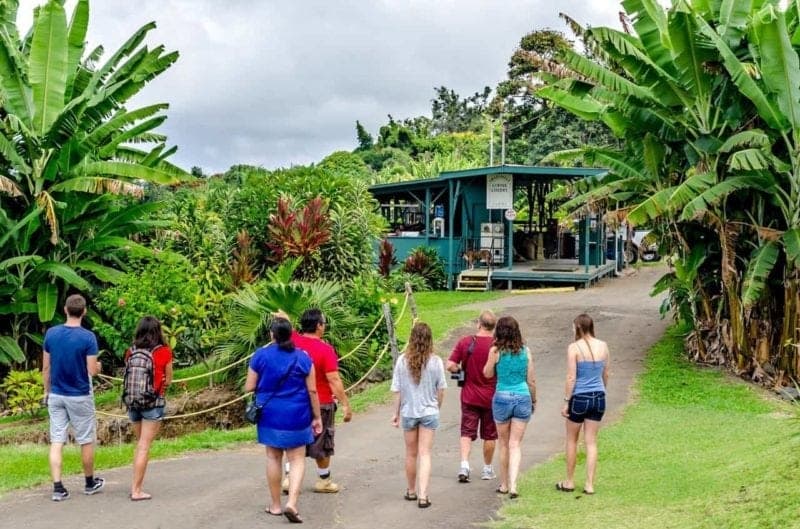 Organize your own Kona Coffee Tour and Tasting with our tips on how to visit, where the best farm tours are, and what the best tour time is.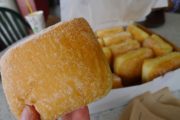 Hawaiian food is a mix of traditional local food and exotic dishes and crops. Learn about the many local snacks and specialties.
We love good beers on the Big Island and know how to brew it. Read about our local breweries and our beer festivals.
"Must Do" activities in Kona, Hilo, Volcano and Waimea
These are our "local flavor" unmissable activities for each of the four largest cities on the Big Island: Hilo, Kailua Kona, Volcano Village and Waimea.
Kailua Kona highlights
While in Kona make sure to connect with the ancient history of the Hawaiians. Make a visit (or two) to some of the petroglyph sites near Kona: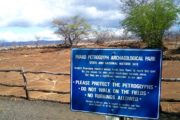 The Puakō petroglyph close to Kailua Kona on the Big Island of Hawaii has about 1,200 petroglyphs visible in the park to which access is allowed. Directions.
If you are sending more time in Kona you can try out some of our 5 favorite things to do in Kona.
Waimea highlights
While in Waimea try to plan a visit the Big Island Brewhaus in Waimea for good Mexican food and homemade beer. Highly recommended after for example visiting the breathtaking cliffs of Waipiʻo valley:
Working under the "Live Beer, Live Food, & Live Music" motto, the Big Island Brewhaus offers fresh Mexican food and an outdoor beergarden.
Read more about our favorite things to do in Waimea.
Volcano Village highlights
If there is only one thing you can do in Volcano Village the choice is simple. The Hawaii Volcanoes national park is for us without question the only "must visit" attraction on the Big Island!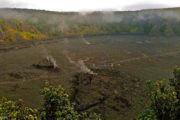 The Kīlauea volcano is THE most popular Big Island attraction. See lava, visit old eruption sites, and see how lava impacts our daily lives.
If have have more time to spend in our favorite town on the Big Island you should have a look at our list of things to do in Volcano Village.
Hilo highlights
A visit to Hilo isn't complete without a stop at the Hilo farmers market for souvenirs and tasty food. Pick up some lunch for on the road, when you are taking one of the incredibly scenic drives close by.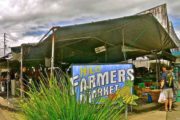 The Hilo Farmers Market with 200+ local vendors is a must-visit when you are in town. (+7 nearby farmers markets in Hilo, Pahoa, and Keaau).
Hilo is a great city to use as base for a few days. If you spend more time in the area you should have a look at more of our Hilo favorites.
Hawaiian islands compared: which island is best for you?
The four most visited and popular Hawaiian Islands are Oʻahu, Maui, the Big Island, and Kauaʻi. Every one of our islands is an amazing tropical island well worth your visit, but they do each have their own unique selling points that distinguish them from the rest. We try to summarize how the islands compare to each other in 1 paragraph, below.
The Big Island
The Big Island should be your #1 choice for outdoor adventures, volcanology interests, and diversity. While we also have beautiful and multi-colored beaches that often make it into the "top xx beaches of the world" lists, those on Maui and Oʻahu are even more spectacular. Nightlife and shopping malls are almost non-existent on the Big Island.
---
Maui
Maui represents everything that people think of when they picture Hawaiʻi: A beautiful blend of beaches, volcanoes, palm trees, and tropical agriculture. Its appeal comes from its beaches (which are on par with those of Oʻahu) natural landscape and biodiversity, including its two massive volcanoes, whale watching and marine ecosystems, and remote, undeveloped parts of its island, like Hana.
Summarizing, Maui combines aspects of Oʻahu and the Big Island to find a happy medium between its cultural, culinary, hotel, and outdoor options. Curious? See also our overview of most popular sights and destinations, and our list of 14 bite-sized (smaller) activities on Maui.
---
Oʻahu
Oʻahu is the most diverse of the Hawaiian islands, offering a wide variety of people, landscapes, and lifestyles. From the buzz of Honolulu to the laid back beaches and big waves of the north shore, it's possible to experience almost everything Hawaiʻi has to offer here. If your main goal is beach hopping and immersing yourself in culture, food, drinks, and nightlife, Oʻahu is the place to be.
It is worth noting that as the most densely populated and visited of all Hawaiian islands, it can be harder to escape inconveniences like traffic and crowds.
---
Kauaʻi
Kauaʻi is the oldest in Hawaii's modern-day chain and has a reputation for being a lush island; hence, its nickname as the "Garden Island." But it's also one of the most dramatic islands. As volcanoes age, they sink and reflect the effects of erosion, and about five million years of weathering have transformed Kauaʻi into a marvelous sculpture, with natural features found on no other island.
With a population of less than 75,000, Kauai is truly a small-town island, littered with open space, protected preserves, and old plantation history. Its main attractions, such as Waimea Canyon and the Nāpali Coast, will wow you with their grandeur, and its outdoor recreation, like hiking, is limitless.
Curious? See our overview of most popular sights and destinations and our list of 14 bite-sized (smaller) activities on Kauaʻi to get a better feeling for what is going on on Kauaʻi.
All Hawaiian islands compared: Oʻahu vs. Maui vs. Kauaʻi vs. the Big Island
For more nuance and a one to one comparison of our islands please see our island comparison articles: