Maui has long been a favorite of visitors because it represents everything that people think of when they picture Hawaiʻi: A beautiful blend of beaches, volcanoes, palm trees, and tropical agriculture. The second-biggest island in the chain, much of Maui's appeal comes from its natural landscape and biodiversity, including its two massive volcanoes, whale watching and marine ecosystems, and remote, undeveloped parts of its island, like Hana.
Maui combines aspects of O'ahu and the Big Island to find a happy medium between its cultural, culinary, hotel, and outdoor options. It lacks a late-night, big city like Honolulu – which is considered a good thing by many people – but offers an array of small, scattered beach towns with a variety of food, drink, lodging, and entertainment options. It's not as big or diverse in terrain as the Big Island, but its infamous 10,000-foot volcano, Haleakala, has more than you could possibly explore in a single visit.
Table of Contents
Good to know: We recommend that you spend at least 5 days on Maui, but more days are always better (see for example our 8-day itinerary for Maui).
Maui vs. O'ahu, Kauaʻi, and the Big Island
If you are planning on visiting more than one island while on Hawaii you should definitely have a look at our Maui vs. O'ahu, Maui vs. Kauaʻi, and Maui vs. the Big Island comparisons, in which we give highlights for each island and compare the local activities, the volcanoes, the night life, the beaches, and the natural variety. You can learn more about things to do on Maui in our lists of Maui water activities and Maui land activities.
Maui is part of Maui Nui
Nui means "great/large" in the Hawaiian language, and Maui Nui (or Greater Maui), is the name given by geologists to the landmass of 7(!) shield volcanoes that once used to form one BIG island. At its largest point 1.2 million years ago Maui Nui probably had a maximum size of about 11,000 square km (6,200 square miles), some 4,000 square km (2,150 square miles) larger than present-day Hawaii island!
Much of Maui Nui sunk below the water level through a million years of erosion and submergence, and now exists of four islands: Maui, Molokaʻi, Lānaʻi, and Kahoʻolawe.
You can read more about the becoming of Maui Nui in this interesting Volcano Watch article.
Destinations on Maui
Unlike O'ahu, where the majority of visitors are concentrated in one location (Waikiki), Maui spreads the love around its island to a number of small towns and mini-destinations. Below is an overview of the main districts on Maui to help you get a better sense of the island.
1: Kahului/Central Maui
If there's a "main hub" of Maui, it would be Kahului. It's where you'll find the airport and thus, it's where everyone starts their journey upon arrival. Filled with big box stores and strip malls, Kahului has whatever you're looking for in terms of practical needs – i.e. Walmart – but there's not much to entice visitors to its streets otherwise.
Adjacent to Kahului is the budding town of Wailuku, located at the mouth of the famous Iao Valley (see below). It's a nice contrast to the commercial feel of Kahului. Along Market Street in Wailuku you will find small mom and pop type stores, coffee shops, and restaurants. A great time to explore is during the First Friday art and cultural celebrations that take place every month.
Otherwise, the majority of Central Maui is taken up by agricultural fields. Sugar cane once dominated these lands – it was the major cash crop in Hawaiʻi since the mid-19th century – but the last plantation closed down at the end of 2016. Today, the future of these fields is still in flux. Should they grow local produce, or plant another cash crop?
2: Kihei/Wailea and the South Shore
The two main hubs on the south shore are Kihei and Wailea, and there's a big difference between their setups and vibes.
Located in the center of the south shore, Kihei is one of the largest, most-dense residential communities on Maui. It was built for locals first, with a strong community feel and neighborhood-style, no-frills beach parks, such as Mai Poina. Its location in the bottom-center of the island makes it an attractive basecamp, with direct access to the west side, lots of activities, Haleakala, and central Maui.
Wailea, on the other hand, is located near the end of the road on the extreme southern end of the island. Developed mostly for high-end luxury living, including resorts, hotels, and condos, it's home to renowned hotels like the Grand Wailea, the Four Seasons Maui, and the Wailea Beach Resort. Though the end-of-the-road location is not convenient as a launching point, there are many beautiful beaches and natural areas to see in this part of the island, including Makena Beach, Ulua Beach, Keawakapu Beach, and La Perouse Bay.
The south shore is also home to Maalaea Harbor, where many tour operators are based, and the Maui Ocean Center, a discovery center for the underwater world that surrounds the island.
3: Lahaina, Kaanapali, and the West Side
Maui wildfire update (September 3, 2023)
We are devastated by the recent fires on Maui. At the moment, and in alignment with Governor Green, the Love Big Island website urges visitors to refrain from going to West Maui (including Lāhainā, Nāpili, Kāʻanapali, and Kapalua) until at least October 17th, as a means of respect to the people and places that have been lost in Lāhainā during this devastating tragedy.
We encourage travelers to consider visiting other areas of Maui (including Kahului, Wailuku, Kīhei, Wailea, Mākena, Pāʻia and Hāna), or other islands such as Kauaʻi, Oʻahu, Lānaʻi, Molokaʻi and Hawaiʻi Island.
For the latest Maui emergency management and recovery information, and how you can kōkua (help) the people of Maui, visit mauistrong.hawaii.gov.
See also the sixth emergency proclamation, issued on August 19 (valid through October 17, 2023).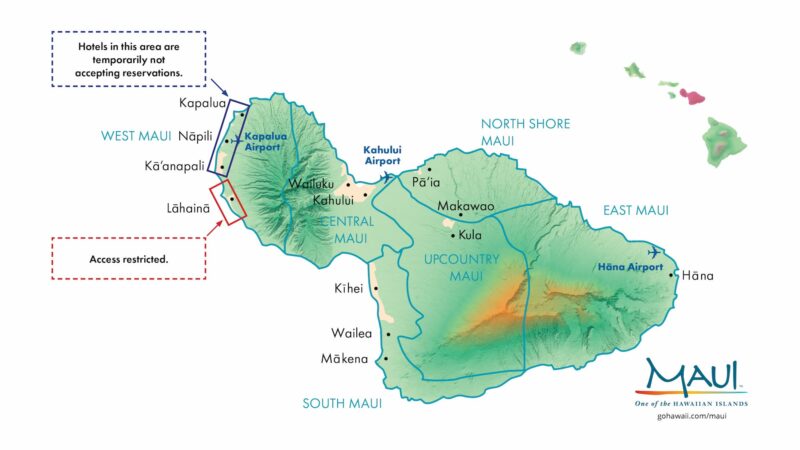 Map of restricted areas in West Maui after the August 2023 Maui wildfires.