Asking about scenic drives in Hawaiʻi may sound like a trick question, as driving just about anywhere is sure to treat you to beautiful scenery. But, some routes are more special than others.
On Maui, there are several scenic drives worth taking, both for the drive itself as well as the destinations they lead to, such as a remote town or the summit of a tall volcano.
The scenic drives described below will take you through some of the most beautiful landscapes on Maui, and also help you discover new things along the way.
Table of Contents
Remember, while you may have a destination in mind, there is no rush! Take your time, drive slowly (and carefully), and enjoy the scenery. There are many thing to check out along the way. Stopping in small towns that you might otherwise pass will introduce you to the "real Hawaiʻi."
1: Road to Hāna
Distance: 51 miles one-way from Kahului to Hāna
Where is it? Starting in Kahului, take the Hāna Highway east toward Hāna. From there, stay on the same road until you reach Hāna.
Good to know: There is also an alternative route that diverges from the classical route once you reach Hana colloquially called the "Road beyond Hana". Now, instead of turning around, you continue through Hana and make a circle around Haleakalā, following the coastal road through the Kīpahulu District of Haleakalā National Park to the much-drier south shore, eventually arriving in the upcountry town of Kula.
Why is it special? The Road to Hāna is the most famous drive in all of Hawaiʻi, and for good reason. Following a small, two-lane country road that hugs the ocean for most of it, you will embark on 620 turns and cross 59 one-lane bridges along Maui's remote northeast coast. Comprised mostly of tropical rainforests, there are ample opportunities for stops, including some of the most stunning hiking trails on Maui, waterfalls, ocean views, and other points of interest.
Recommended stops: The amount of things to do and the options for stops along the Road to Hāna is quite stunning. Some of the highlights are:
Many Fruit stands
Plenty of bridge crossings
Twin Falls
Kaumahina state wayside park
Upper Waikani Falls (see picture below)
Kaʻeleku cave
And many more stops.
Recommended Tour: Because there are so many things to do and sights to see along the Road to Hana, planning the trip yourself can be cumbersome. Besides, the road is narrow and winding at times and whoever is driving your vehicle will not be able to enjoy the ride as much as everybody else. The following native Hawaiian family owned and operated tour company with a combined 30 years of professional tour guiding experience and generations of life experience from living in Hāna organized highly-appreciated (and reviewed) Road to Hana tours:
Explore the Road to Hāna, Hawaiian Style
Visit Maui's most stunning natural locations during this full-day small-group Road to Hana tour (12 guests max). Highlights include several swimming stops, panoramic views from Keanae peninsula, and glimpses of Haleakala volcano.
Duration: 9 hours
By: Hana and Beyond
Free cancellation: up to 48 hours before tour
from:
$210
What is a suggested tour?Our suggested tours are hand-picked tours that receive consistent good reviews, give back to the community, and work hard to minimize their impact on the environment. Read more about these tours on our website.
Dive in deeper: We recommend reading our guide to the Road to Hāna for the complete rundown on what to see and do, as well as advice for driving the infamous route.
2: Haleakalā Highway
Distance: 37 miles from Kahului to Haleakalā Summit and Visitors Center
Where is it? You can't miss Haleakalā – it's the largest volcanic mountain on Maui and makes up a majority of its land mass.
Why is it special? The Haleakalā Highway accesses Haleakalā's summit in dramatic fashion, climbing from sea level up to 10,000 feet in elevation, ending at the National Park's Visitor Center. Along the way, drivers are treated to sweeping views of Maui, including its farm-rich valley, coastal towns, beaches, ocean, and the West Maui Mountains. On clear days, you can see the offshore islands as well.
Another aspect that makes the drive special is seeing how the terrain and landscape changes along the way, beginning down in the busy, developed town of Kahului, ascending through the forests and farm land of Upcountry Maui, and then climbing the desolate slopes of Haleakalā in route to its volcanic crater – all in less than 40 miles.
The Haleakalā Highway was built in the 1930s in order to "bring the world to Maui." You can read up on its history and see construction photos here.
Recommended stops on the Haleakalā highway
There are many things to check out along the way, some stops quick and others, depending on your interests, could make for longer side adventures. Here's what we recommend:
Makawao
This historical town is the home of paniolo, or Hawaiian cowboy, culture. Its downtown has been refurbished here in modern times, now filled with art galleries, restaurants, and shops. You could do a quick drive through to check it out, or stay longer to have lunch.
Kula
The next area you'll encounter is Kula, an upcountry farm town. Located at about 2,500 feet, the views are just beginning. Enjoy this quaint town's forests and small farms.
National Park Section
Once through Kula, you'll enter the National Park Section of the Haleakalā Highway. You'll notice an extreme transition of terrain, the green fields giving way to rocks and the endemic Haleakalā silversword. Pull offs and viewpoints will become common, and we recommend stopping at several, such as Leleiwi and Kalahaku, for photos and perspective. If you'd like to check out a hiking trial, there are several along the highway, including Hosmer's Grove and Halemauʻu.
Haleakalā Summit
Your destination is the summit, and once you arrive, there is much to explore. Check out the Visitors Center, view points, and, if prepared with day packs, food, and water, the Sliding Sands Trail, which heads out into the volcanic crater.
3: Kahekili Highway
Maui wildfire update (September 8, 2023)
Governor Josh Green, M.D., today declared in a statewide address that the West Maui communities of Kā'anapali, Nāpili, Honokōwai, and Kapalua will fully reopen on Sunday, October 8, two months after the August 8 wildfires that destroyed Lahaina.
Hawai'i residents and visitors are encouraged to make travel plans to Maui and support the island's businesses, restaurants, retail outlets, attractions, and accommodations. Lahaina itself will remain fully closed to the public until further notice out of respect to the town's residents.
For the latest Maui emergency management and recovery information, and how you can kōkua (help) the people of Maui, visit mauistrong.hawaii.gov.
See also the sixth emergency proclamation, issued on August 19 (valid through October 17, 2023).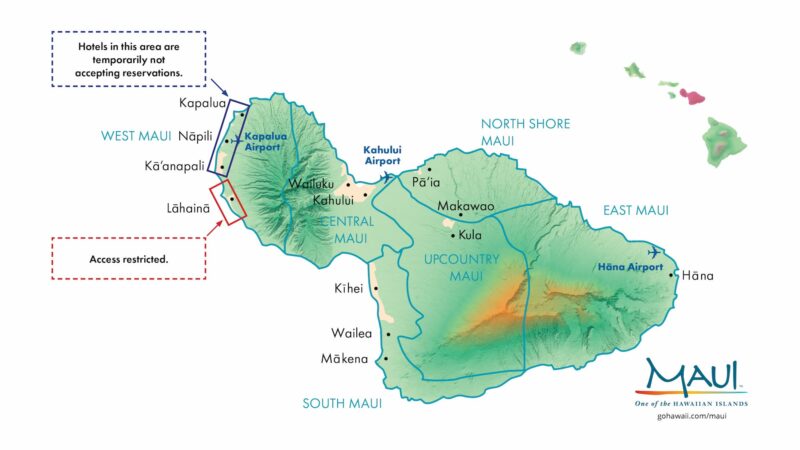 Map of restricted areas in West Maui after the August 2023 Maui wildfires.