Maui has a near infinite amount of history and culture to offer visitors. On a historical level, it was once the "Whaling Capital of the Pacific" as well as an epicenter of sugar cane production. Culturally, it carries deep traditions and provides numerous opportunities to explore sacred Native Hawaiian sites.
Maui wildfire update (September 8, 2023)
Governor Josh Green, M.D., today declared in a statewide address that the West Maui communities of Kā'anapali, Nāpili, Honokōwai, and Kapalua will fully reopen on Sunday, October 8, two months after the August 8 wildfires that destroyed Lahaina.
Hawai'i residents and visitors are encouraged to make travel plans to Maui and support the island's businesses, restaurants, retail outlets, attractions, and accommodations. Lahaina itself will remain fully closed to the public until further notice out of respect to the town's residents.
For the latest Maui emergency management and recovery information, and how you can kōkua (help) the people of Maui, visit mauistrong.hawaii.gov.
See also the sixth emergency proclamation, issued on August 19 (valid through October 17, 2023).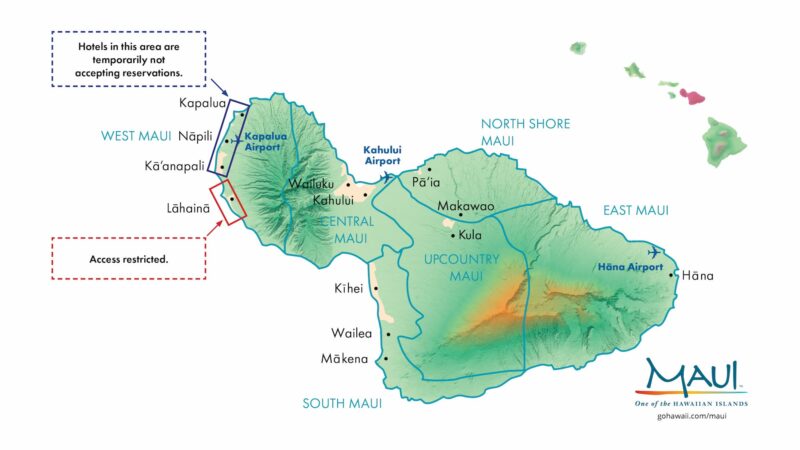 Map of restricted areas in West Maui after the August 2023 Maui wildfires.