Maui is beloved because it successfully offers a little bit of everything. From five-star, oceanside luxury resorts to backcountry cabins atop a 10,000-foot volcano, Maui can offer you both extremes and everything in the middle.
Its range is even more impressive when you consider the island is home to less than 200,000 people. The second-largest landmass in the chain, much of Maui's appeal comes from its natural landscape and biodiversity, including its two massive volcanoes, protected marine sanctuaries, whale breeding grounds, and remote, wild jungles.
Maui wildfire update (September 8, 2023)
Governor Josh Green, M.D., today declared in a statewide address that the West Maui communities of Kā'anapali, Nāpili, Honokōwai, and Kapalua will fully reopen on Sunday, October 8, two months after the August 8 wildfires that destroyed Lahaina.
Hawai'i residents and visitors are encouraged to make travel plans to Maui and support the island's businesses, restaurants, retail outlets, attractions, and accommodations. Lahaina itself will remain fully closed to the public until further notice out of respect to the town's residents.
For the latest Maui emergency management and recovery information, and how you can kōkua (help) the people of Maui, visit mauistrong.hawaii.gov.
See also the sixth emergency proclamation, issued on August 19 (valid through October 17, 2023).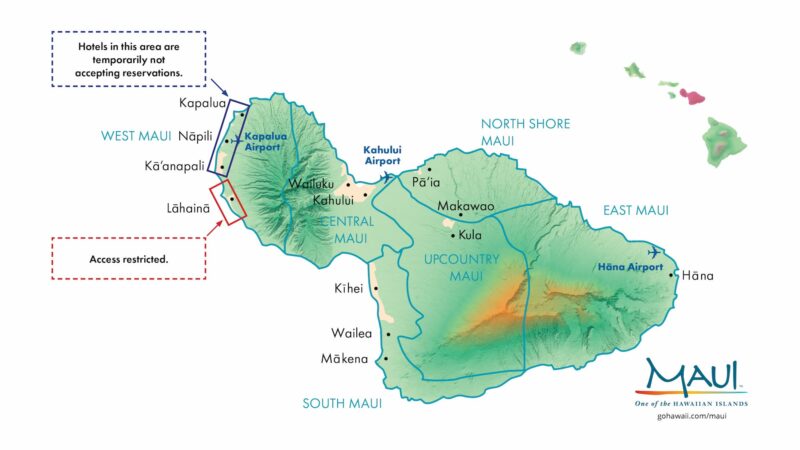 Map of restricted areas in West Maui after the August 2023 Maui wildfires.