Visitors come back to Maui over and over again for many reasons, and the beauty of its beaches is right there at the top. While Oʻahu rivals its number of beaches, Maui's low-key, country, small-town vibe offers more tranquility, with less fanfare than, say, Waikīkī or the North Shore.
With more than 120 miles (193 km) of shoreline opening onto 81 accessible beaches spread out over more than 30 miles, Maui offers more swimmable beaches than any other Hawaiian island.  These beaches come in a wide variety, including white, red, and black sand, with some of the most blissful scenery thanks to multiple offshore islands and an abundance of whales during winter.
Table of Contents
Below, we break down our favorite beaches on Maui, including recommendations for specific travelers. A map shows the location of the beaches, followed by descriptions of what you can expect at each.
More beaches?
Among the Hawaiian islands Maui and Oʻahu are most famous for their beaches, but that doesn't mean you should go to the beach on the other islands. Have a look at our other beach guides to get to know our favorite beaches in Hawaiʻi:
Our favorite beaches for …
Sometimes, having a lot of choices can be overwhelming, and on Maui, there's certainly no shortage of sand. To get started, we answer some commonly asked questions that should help you select the best beach for you.
Staying safe on the beach
Here are some tips about going to the beach in Hawaiʻi. Some may be common sense, but it's important to share them here, as the ocean can be unpredictable and dangerous at times. Even when conditions make it seem like paradise, you should keep the following in mind:
Beach map
Here is a general overview of Maui's beaches in an interactive map to help you get the lay of the land:
North Maui Beaches
Maui's north shore is extremely laid-back and relaxed, with much of its coast comprised of rocky sea cliffs, so don't expect to find beach after beach after beach (for that, you'll want to head south and west).
But, the beaches you do find in the north are extremely nice, especially Baldwin – a favorite spot for residents. Due to rough waters along the north shore, these beaches are often not great for swimming. Always check local conditions before getting in the water.
Kanaha Beach
Why Go: This beach is extremely local, a favorite for fishing, windsurfing, canoe clubs, and picnics, with a small white sand beach. Conditions can be windy, and it's near the flight path for landing planes, which, depending on where you stand, can be a good thing (photos) or a bad thing (noise). Views of the West Maui Mountains are spectacular from this beach.
Added Bonus: Kanaha is located right next to the airport, so it's a great last stop if you've got some time to kill before your flight.
Hoʻokipa
Why Go: In terms of scenic beauty, it's hard to beat Hoʻokipa. It has become a popular roadside stop for people on the Road to Hana. The parking area is located high above the beach on a cliff, offering expansive views of the beach, the ocean, and the West Maui Mountains. The ocean itself is very rough – which is great news for experienced surfers. Most people who go to Hoʻokipa never actually walk down to the beach itself; instead, they hang out on the cliffs above and watch the surfers.
Added Bonus: Hoʻokipa Beach is a protected sea turtle resting area, so it's likely to see them there. Make the walk down and enjoy this incredibly scenic area. Go early or late in the day to avoid the Road to Hana rush.
More sea turtles? Have a look at this list for 9 more beaches on Maui where you can spot turtles.
Learn more about Hookipa.
Baldwin Beach
Why Go: If you're looking for that classic, soft sandy beach on the north shore, Baldwin is where you want to be. A full-service beach park with restrooms, showers, picnic tables, and a lifeguard, it draws the local after-work residents from Pāʻia, leading to a relaxed vibe.
Added Bonus: Often featuring a strong shore break, Baldwin is a nice place to watch bodysurfers and bodyboarders. It's a great place for a walk or run at sunset.
Spreckelsville Beach
Why Go: Spreckelsville Beach stretches on for about two miles and is broken up into several sections, including Euro Beach and Baby Beach. Windsurfing and fishing are popular here, if you'd like to try your hand. Though the north shore is often not great for swimming, Baby Beach is one of the most protected areas.
Added Bonus: Like Kanaha, Spreckelsville is located nearby the airport, making it a convenient location to spend an hour or two before boarding your flight.
Pāʻia Secret Beach
Why Go: It's not the best-kept secret in the world, but most visitors don't know about this beach, separated from Baldwin by a short walk through a small wooded bluff. If you're looking for some space, you should be able to find it here. This beach is clothing optional.
Added Bonus: The beach continues east into Pāʻia Bay and Lower Pāʻia Park. From there, you can walk to Pāʻia Bowls for a local treat.
South Maui Beaches
If you're a fan of beaches, South Maui is one of the best places in all of Hawaiʻi to find yourself. Between Kīhei and La Perouse Bay, there are more than 20 established beaches and beach parks to explore, some large and expansive, some small.
Below, we describe some our favorites up and down the south shore, and as you hop between them, you're bound to discover some lesser-known slices of sand tucked away between resort areas or in small coves.
Mai Poina Beach Park
Why Go: Mai Poina is a long, narrow beach perfect for early morning walks, a lunch picnic, or romantic sunset viewing. There's no lifeguard on duty and there are beaches with better water quality, so locals tend to use it as a scenic exercise and running area. On days with waves, you'll see surfers. When there's high winds, you'll see windsurfers and kitesurfers.
Added Bonus: Mai Poina usually doesn't get crowded, and it's adjacent to north Kīhei with plenty of parking.
Learn more about Mai Ou Lau Beach.
Kalepolepo Beach Park
Why Go: A grassy lawn leads up to this lesser-visited stretch of sand, with trees for shade and plenty of space to spread out. It's not a huge beach, but the lack of crowds and its historical/cultural past make it worthy of a visit.
Added Bonus: This area was of significance to ancient Hawaiians as a village and fishing ground for royalty, and there's a restored fishpond right in front of Kalepolepo.
Kamaole Beach Park I, II, III
Why Go: Kamaole is made up of three sections – I, II, and III – and offers a little bit of everything. The first (I) section is crescent-shaped, and the second (II) is wide and sandy, and both are calm and great for swimming. Section III features a grassy park and a shorebreak that draws bodyboarders.
Added Bonus: There are a couple other smaller beaches to check out around here, like Cove Beach Park to the north and Keawakapu Beach to the south.
Ulua Beach
Why Go: This postcard worthy beach in Wailea offers beautiful white sand and direct views of the West Maui Mountains. It's tucked in between two rocky points, crescent in shape with bright, blue water. It's backdropped by a small hill, grassy area, and walking path, and its waters are beloved for snorkeling and scuba diving.
Added Bonus: If Ulua is too crowded, Polo Beach and Mokapu Beach are nearby.
Wailea Beach
Why Go: Wailea Beach definitely has a resort vibe – the Four Seasons and Grand Wailea are right there – and it gets crowded as a result. But, it's hard to blame people for going. The sand is fine and perfect, and the views of Kaho'olawe, Molokini, Lāna'i will keep you happy all day. There are opportunities for snorkeling here, too, along the rocks.
Added Bonus: Wailea Beach was named "America's Best Beach" in 1999.
Palauea Beach
Why Go: Palauea doesn't have its own parking lot, and requires a short walk down a path through the trees to reach it. As a result, it doesn't see a lot of visitors – hence, the appeal. There's no lifeguard at the beach, so keep that in mind, but if you're looking for somewhere quiet to hang out or wade in, Palauea is a great place.
Added Bonus: Snorkeling is good around the rocks at the ends of the beach (always go with a buddy, especially since there is no lifeguard on duty).
Po'olenalena Beach
Why Go: If you're looking for a long, sandy, serene beach to watch the sunset, Po'olenalena is a wonderful destination. Typically, it empties out rather well late in the day, with room to spread out and relaxed vibes.
Added Bonus: Like many beaches in this area, the snorkeling is good around its outcrops.
One'uli Beach
Why Go: Other than the excellent snorkeling and diving, people come to One'uli for its black sand beach (the name means "black sands"), former cinder from the Haleakalā volcano that has washed up on shore. It's not a beach for sunbathing – it's small, and black sand is coarse and hot – but grab your snorkel gear and spend an afternoon in the water, appreciating its beauty.
Added Bonus: There's an abundance of wildlife in the area, including Hawaiian green sea turtles and manta rays.
Video: Get a first impression and learn how to get to Oneʻuli beach in the following video:
Oneuli Black Sand Beach at Makena State Park, Maui - Hawaii
Makena (Big Beach/Little Beach)
Why Go: The white sand in this state park stretches on for three quarters of a mile. Unlike most of the south shore, which is dotted with hotels and luxury condos, Makena is undeveloped, offering a natural, scenic surrounding in all directions. "Little Beach," a small beach cove that tends to be clothing optional, is just around the corner, on the other side of the peninsula.
Added Bonus: Once you're this far south, the development ends, and nature begins. Keep going south to explore other wild places, like the 'Āhihi Kinau Natural Reserve and La Perouse Bay.
East Maui Beaches
Most people experience East Maui via the Road to Hana (see our guide here), exploring along the way. Once you reach Hana, don't sleep on its beaches. They aren't great for swimming, but they are very natural and there's a surprising variety, including white, black, and red sand beaches.
Waiʻānapanapa State Park
Why Go: This black-sand beach showcases the beauty of Hana, surrounded by a thick, green rainforest contrasting the dark, volcanic coastline. It's not great for swimming due to strong surf and sharp rocks, but the coastline is wonderful to explore, with hala forests, hiking paths, and a seabird colony. Fishing from the shore is popular with locals.
Added Bonus: There's a campground here, and spending the night out in Hana is a unique experience. Consider making this park the end of your Road to Hana adventure.
Important: Entry and Parking Reservations are required for all non-residents, and can be made here.
Hana Bay Beach Park
Why Go: This small, crescent-shaped, black-sand beach park is mostly frequented by locals. It's a safe option for a swim in calm conditions, protected by an outer reef.
Added Bonus: Located right there in downtown Hana, it's the spot to experience daily life in this remote town.
Koki Beach Park
Why Go: If you're tired of black sand beaches in Hana, how about something with red sand? Koki is usually not a great place to swim; however, it's an expert surf spot out in Hana, and a wonderful place to grab a slice of sand.
Added Bonus: A red cinder hill, Ka Iwi o Pele (translates to "the bones of Pele"), is where the beach gets its color.
Good to know: the close-by Kaihalulu Beach is more famous for its red-sand beach but visitation of this beach is controversial with locals because the trail passes through private property. You will no doubt see others doing this; however, we recommend visiting Koki instead, out of respect for local residents.
Hāmoa Beach
Why Go: And, finally, a white-sand beach in Hana, and a beautiful one at that. Its perfect crescent shape is backdropped by green cliffs. Swimming is not recommended most of the year, aside from a quick dip in the shallow surf. But, if it's calm, there's good snorkeling around the rocks.
Added Bonus: There's a long history of surfing at Hāmoa, and it has also become popular with bodyboarders.
West Maui Beaches
West Maui is home to Kaʻanapali Beach, one of the most-heralded beaches in all of Hawaiʻi. The coast rounds itself out with beginner surf beaches, big wave bays, and local parks.
Maui wildfire update (September 8, 2023)
Governor Josh Green, M.D., today declared in a statewide address that the West Maui communities of Kā'anapali, Nāpili, Honokōwai, and Kapalua will fully reopen on Sunday, October 8, two months after the August 8 wildfires that destroyed Lahaina.
Hawai'i residents and visitors are encouraged to make travel plans to Maui and support the island's businesses, restaurants, retail outlets, attractions, and accommodations. Lahaina itself will remain fully closed to the public until further notice out of respect to the town's residents.
For the latest Maui emergency management and recovery information, and how you can kōkua (help) the people of Maui, visit mauistrong.hawaii.gov.
See also the sixth emergency proclamation, issued on August 19 (valid through October 17, 2023).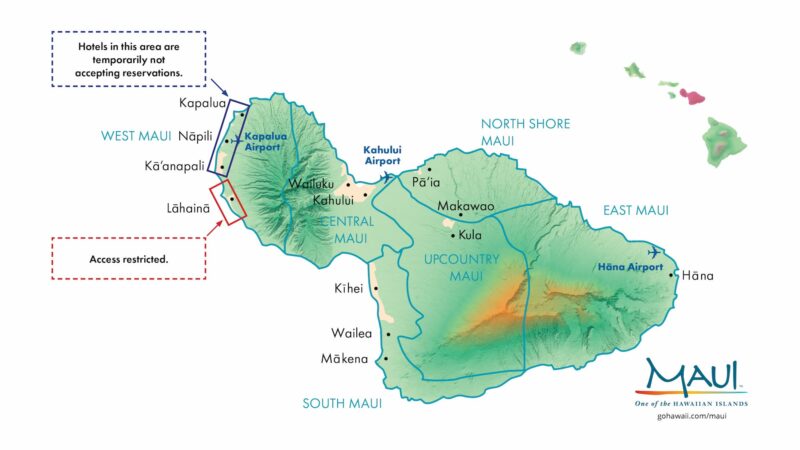 Map of restricted areas in West Maui after the August 2023 Maui wildfires.