No matter which island you're visiting, you're set to experience a string of beautiful sunsets in Hawaiʻi.
Watching the sun dip down into the water with your feet in the sand is probably high on the list; however, don't forget that there are many other great ways to experience the sunset, from the top of a volcano to a waterfront seat at a restaurant.
Below, we highlight some of our best tips for viewing the sunset in Hawaiʻi, and offer recommendations for some great places to take it all in.
Table of Contents
7 Tips for seeing the sunset in Hawaiʻi
Here are some tips to help make your sunset experience in Hawaiʻi even better:
1: If watching from a restaurant or bar, get there early
Obviously, the tables with the best views/closest to the water will fill up first.
2: Don't rush away
Many people watch until the sun dips below the water, then rush for the proverbial exits. We strongly advise against this! Once the sun is down, the colors in the sky are the most dramatic, and before long, the stars begin to come out. Take advantage of this time, when most people have gone, to enjoy the peaceful end to the day.
3: Don't sleep on the east
If you're on a west-facing coast, you'll have the opportunity to see the sun set into the ocean. However, sunsets from the east coast can be just as beautiful, watching the sun set behind the mountains and enjoying the colorful changes in the sky.
4: Bring snacks
Pick up some local food and drinks to enjoy during the sunset.
5: Print out your own sunrise/sunset calendar
When the sun sets depends both on the date and on where you are. For example, in Honolulu on Oʻahu, the earliest sunsets take place early December at 5:48 pm, while the latest sunsets take place early July at 7:17 pm. That's an almost 1.5 hour difference!
There are many tools that you can use to calculate the exact time of the sunset but we like the following website because of how easy they make it to print out a small calendar: www.sunrisesunset.com.
6: Sometimes, it's not where you are, but your state of mind
In other words, anywhere in Hawaiʻi can be a good place to watch the transition from day to night if you are with good company and/or in a grateful state of mind. With all the beautiful spots in Hawaiʻi, this list could go on and on. Honestly, any slice of sand, mountain, or coastline can be special for the sunset if you are grounded and in-tune with its mana (power).
7: Bring your camera
Who has not heard the saying "Take nothing but memories, leave nothing but footprints!"? We certainly have, but would like to add that taking photos is also perfectly all right. Even better, sunset pictures always are among the most admired ones, so do not forget to take your camera if you want to have a lasting memory.
Most current-day phones have a setting that is made for sunsets but if you want to get fancy we recommend to have a look at this guide to sunset photography.
Best sunset spots on the Big Island
The Big Island has a wide-variety of unique sunset opportunities:
A-Bay Beach and Lava Lava Beach Club
Contrary to popular belief, there aren't many places in Hawaiʻi where you can drink and dine with your feet in the sand. There is one, however, about 4o minutes north of Kona: The Lava Lava Beach Club at A-Bay. With live music and beachside seating, it's a beautiful place to unwind for a sunset.
Good to know: Before you settle in for drinks, take some time to explore the A-Bay area. Walk the undeveloped coastline to the south, keep your eyes out for sea turtles, take a short hike on the nearby King's Trail, or simply relax on the beach and enjoy a refreshing swim. Don't procrastinate: It's best to arrive early to get a good seat in the sand at Lava Lava.
Kailua-Kona Waterfront
The town of Kailua-Kona is filled with waterfront restaurants, all offering great views of the sunset, as well as an array of parks and beaches that face west. With easy walkability, it's the place to be on Big Island from happy hour to twilight.
Good to know: As always, arrive early, especially in the high seasons, to ensure a good seat. Some classic places to check out are Huggo's on the Rocks, the Kona Inn, and Don the Beachcomber. There are many great places along Aliʻi Drive that offer sunset views, so blow with the wind and try out a few over the course of your stay.
Volcano House at Kīlauea
Whenever Kīlauea Volcano is erupting in its summit crater (Halemaʻumaʻu), it will rank in our book as one of the best places to catch a sunset on Big Island. Seeing the "glow" at night is a popular experience, but don't skip out on the sunset! Watching the sun go down and the lava "come up" – aka the glow begin to appear – is one of the most unique experiences Hawaiʻi has to offer.
Good to know: Show up about an hour before sunset, set up shop along the crater rim in front of the Volcano House, and watch Mother Nature put on a beautiful show: the sun going down over the volcano, the colors in the sky changing, and, simultaneously, the glow from the caldera becoming more and more present, illuminating the trees and clouds above. Remember to bring some warm clothes – it can get chilly once the sun goes down.
Mauna Kea Summit
If you're looking for the "most epic" place to watch the sunset, you might as well head to the highest point in all of Hawaiʻi: The summit of Mauna Kea, just shy of 14,000 feet. Often above the clouds, the vantage point is otherworldly as you look down upon the sun as it sets.
Good to know: A four-wheel drive vehicle is required to reach the summit of Mauna Kea. Bring warm clothes (jacket, warm hat, gloves). Consider combining the sunset with a stargazing session down at the Mauna Kea Visitor Center, or jumping on a guided tour that includes the sunset and stargazing.
Read more about going to the summit in our guide to visiting the Maunakea summit.
Best Sunset spots on Oʻahu
From city shorelines and rooftop restaurants to remote west-facing beaches, the places to catch a sunset on Oʻahu are diverse.
Queen's Beach (Waikīkī)
Many people pack Waikīkī Beach for the sunset each night. Part of the reason is because it is the main lodging area for visitors, and part of it is because it has a little bit of everything: A south-west facing orientation, restaurants and bars with ocean views, and a classic Hawaiian vibe full of beach bums and surfers.
Good to know: To avoid the crowds, walk east to Queen's Beach across from Queen Kapiʻolani Park. You'll have a good south-west view from there, with views of surfers and bodyboarders, and more personal space than in the main area of Waikīkī.
Also good to know: Waikiki is great for watching the sunset and seeing the sun rise! see for example the following picture taken from the Magic Island beach park:
The Deck
There are many good places to catch a drink and watch the sunset in Waikīkī, but here's one many visitors overlook: The Deck. While you won't see the sun go into the ocean from here, the sprawling rooftop area offers unobstructed views of Diamond Head, which catches the light and glows beautifully during sunset. The cocktails at the Deck make it all the more brilliant.
Good to know: You'll want to sit outside during the sunset, so be sure to arrive at least an hour beforehand to secure a table. Hike Diamond Head earlier in the day to make your view of it extra special.
Lanikai Pillbox
If you want to combine your sunset with a hike, we suggest checking out the Lanikai Pillbox hike. It is an extremely popular hike with visitors for sunrise (the ridge it climbs faces east), but it's just as beautiful – and much calmer – during the sunset hour, mostly locals using the trails for exercise. From the ridge, you can see the colors change over the ocean and the offshore islands, as well as Kailua town.
Good to know: Bring a flashlight so you can make your way down at dusk. After, head into Kailua town for a beer at Lanikai Brewing, or grab some dinner at Buzz's beachside restaurant.
Waiʻanae Coast
Also known as the "west side," the Waiʻanae Coast is filled with beautiful beaches that all offer a front-row seat to the sunset on Oʻahu. From Nānākuli in the south to Mākaha and Yokohama up north, there's plenty of golden sand to go around each and every night.
Good to know: Since the west side is a bit of a drive from Honolulu, the North Shore, and Kailua, we recommend making a day of it. Head over in the morning and beach hop your way around for the day – start in the north at Yokohama, walk the trail out to Kaʻena Point, watch the surfers at Mākaha, have some lunch in Waiʻanae, snorkel at Electric Beach (experienced snorkelers only), and then catch the sunset in and around Nānākuli before heading back after dark.
North Shore Sunset Horseback Ride along the Beach
The North Shore beaches on Oʻahu are world-famous for their big waves and surfing competitions, but did you know the north Shore is also one of the few places on Hawaiʻi where you can go on a beach sunset horseback ride?
While this is a paid experience (see below), it is sure to be an unforgettable one for everybody that loves horseback riding!
Sunset Horseback Ride on the famous North Shore
Go on a sunset horseback beach ride along the iconic North Shore of Hawaiʻi! suited for guests who have never ridden a horse before and experts, this is an unforgettable experience for everybody that likes horseback riding.
Duration: 1.5 hours
Free cancellation: up to 48 hours before tour
from:
$148
What is a suggested tour?Our suggested tours are hand-picked tours that receive consistent good reviews, give back to the community, and work hard to minimize their impact on the environment. Read more about these tours on our website.
Best Sunset spots on Kauaʻi
Here are a couple ideas for enjoying the sunset on Kauaʻi:
Polihale State Park
Located on the remote west coast of Kauaʻi, Polihale is a great destination for the sunset due to its west facing beach, beautiful blue water, and views of the Nāpali Coast. Because it's a far drive from all the major hubs, it tends to be very local, with lots of room to spread out.
Good to know: The access road to Polihale is unimproved (dirt and sand), and it is recommended to have four-wheel drive, especially after it rains. Some rental car companies prohibit their cars from being taken to Polihale. If you go, bring a cooler with snacks and drinks. We recommend stopping at the Ishihara Market in Waimea on your way to Polihale for supplies.
Keʻe Beach
Keʻe Beach is a great location for the sunset thanks to its location at the northwest point of the island and, most importantly, its amazing views of the mountains and cliffs of the Nāpali Coast. It's a wonderful place for photographers, who will enjoy the combination of the sunset, jagged coastline, and reflective waters.
Good to know: New rules along the north shore of Kauaʻi require a shuttle or parking reservation to access Keʻe Beach. You can read more details about it in our guide to getting around Kauaʻi. Pick up drinks and snacks in Hanalei.
Hanalei Bay
Hanalei Bay provides views of the sunset to the northwest in certain times of year, and other times, you can watch it set behind the mountains from the comfort of your beach chair. Scenic and relaxed, it's also a great place for a sunset walk, as the horseshoe-shaped bay (normally) has calm surf and is backdropped by tall, majestic mountain peaks with seasonal waterfalls.
Good to know: Because everything west of Hanalei along the north shore has become regulated with shuttle and parking restrictions (it is still a great place to stay though), Hanalei Bay is the most convenient place to watch the sunset in this area. It's family friendly, with the ability to walk to a local restaurant afterwards.
Poʻipū Coast
The Poʻipū coast faces southwest, providing a view (or partial view) of the sunset throughout the year. There are many beaches to choose from – Poʻipū, Brenneckeʻs, Shipwreck, Lawaʻi, Spouting Horn Park, and Baby Beach, among others. Check exactly where the sun is setting on your particular visit to get the proper viewing angle.
Good to know: Since Poʻipū can be a popular place during sunset, consider walking a couple hundred yards out along the Mahaʻulepu Heritage Trail to find a secluded spot to sit and enjoy a more natural experience. Bring a flashlight for the walk back at dusk.
Best Sunset spots on Maui
Maui offers some of the most colorful sunsets in Hawaiʻi. Here's where to catch it:
Maui wildfire update (September 3, 2023)
We are devastated by the recent fires on Maui. At the moment, and in alignment with Governor Green, the Love Big Island website urges visitors to refrain from going to West Maui (including Lāhainā, Nāpili, Kāʻanapali, and Kapalua) until at least October 17th, as a means of respect to the people and places that have been lost in Lāhainā during this devastating tragedy.
We encourage travelers to consider visiting other areas of Maui (including Kahului, Wailuku, Kīhei, Wailea, Mākena, Pāʻia and Hāna), or other islands such as Kauaʻi, Oʻahu, Lānaʻi, Molokaʻi and Hawaiʻi Island.
For the latest Maui emergency management and recovery information, and how you can kōkua (help) the people of Maui, visit mauistrong.hawaii.gov.
See also the sixth emergency proclamation, issued on August 19 (valid through October 17, 2023).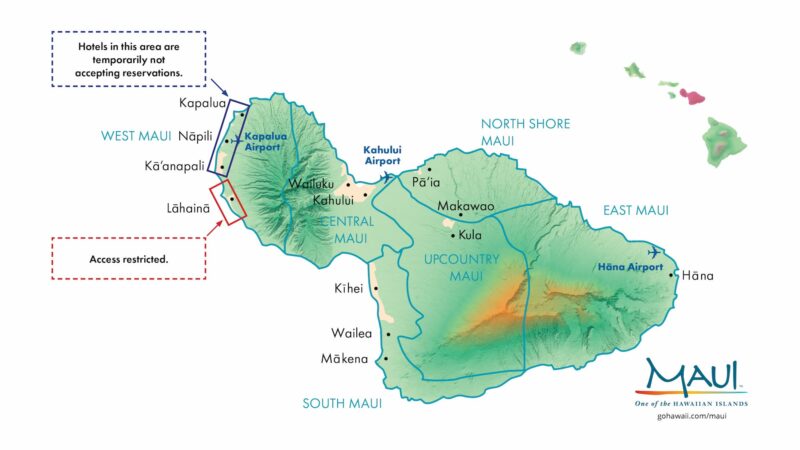 Map of restricted areas in West Maui after the August 2023 Maui wildfires.