Kailua-Kona is the main tourist destination on the Big Island. There are many places to choose from if you feel like having a bite – whether you want to grab a quick coffee or a snack, or a complete (high-end) dinner.
This page contains the places we like to visit in Kailua Kona and on the south Kona coast, and is by no means meant as a complete list of dining options.
Restaurants in Kailua-Kona
Big Island Grill
Honest local food in big portions for a fair price. Only a couple of minutes away from touristy Ali'i drive and the bay front, this is a good choice if your day full of beach and sunshine has left you craving a large meal. Try their loco moco or teriyaki chicken if you have trouble making a choice. Don't expect a cute little eatery though, since the decor is somewhat lacking.
You can find Big Island Grill at 75-5702 Kuakini Hwy Kailua-Kona, HI 96740, and call them at (808) 326-1153. Opening times are 7:00 am to noon on Sundays, and 7:00 am to 9:00 pm all other days of the week.
Breakfast in Kailua-Kona
We have two one favorite place to have breakfast in downtown Kailua – and it has excellent ocean views:
The Fish hopper (website), and
Splashers (closed)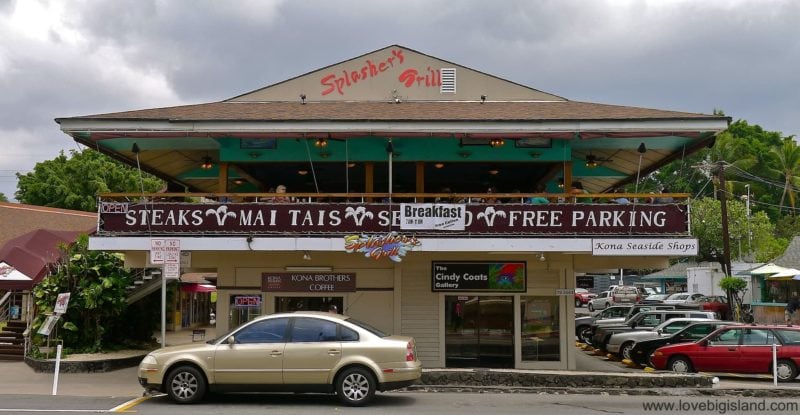 Restaurants in South Kona / Captain Cook
The Coffee Shack
The Coffee Shack in Captain Cook serves great coffee, breakfast, and lunch (get their homemade bread if you can). The views from the terrace are out of this world and this stop should be included in any road trip taking you for a Kona Coffee tour, a visit to the Pu'uhonua o Honaunau National Historical Park, or a snorkeling trip to two step or Captain Cook.
Black Rock Pizza
If you feel like a great pizza that is hand-made from sauce to crust you should check out Black Rock Pizza in Captain Cook. Their amazing patio view and excellent service is another plus.