Who doesn't think about seahorses as mythical creatures that look like dragons and whose males become pregnant? The Ocean Rider Seahorse Farm just north of Kailua-Kona organizes tours of their seahorse farm that include seeing and holding seahorses.
The Seahorse Farm is part of the Hawaii Ocean Science and Technology Park, that is home to more interesting projects that organize tours. For example:
Table of Contents
Ocean Rider Seahorse Farm Tour Details
Tours are available Monday through Friday 3 times a day (10 am, noon and 2 pm) during high season, fewer times during low season.
The tour takes between 1 and 1.5 hours and lets you see baby seahorses, pregnant males, and leafy and weedy sea dragons. They also have an aquarium where more than half the worlds 36 species of seahorses are on display, an interactive tide pool and a fish feeding station for the children.
All tours are led by a professional and certified Biologist that has been trained in public speaking. You can read more about the tour on the ocean rider website.
Tickets for the tours can be bought online or by phone. See their website for details.
You can get a spoiler about the tours and learn some cool seahorse-facts in the following video:
Ocean Rider Seahorse Farm and Daily Tours - Kona Hawaii
How to get to the Ocean Rider Seahorse Farm
The Ocean Rider Seahorse Farm is located 5 minutes south of the Kona airport, at Keahole point. Take the exit for the "Natural Energy Lab" about one mile south of the Kona airport exit.
The road you need to turn in to is called Makako bay drive, and there is large white scaffolding with solar panels visible at the exit.
The address where they give the tours (for use with GPS) is: 73-4388 Ilikai Place, Kailua-Kona, HI 96740, USA.
Please note that due to bio security measures at the Seahorse farm you are not allowed on their tours if you have toured the  octopus farm (see below), or any other aquaculture facility, earlier that day.
Octopus farm tours (currently closed to the public)
There is an octopus farm half a mile north of the seahorse farm: the Kanaloa Octopus farm. Kanaloa is technically a "cephalopod aquaculture research facility" which means you'll get to learn cool science-y stuff!  During the tour you will learn about octopuses (or is it octopi?), and see them up close and interact with them in their tank. All octopi on the farm are brought in by local fishermen, so they are basically rescues :D.
More information on the octopus farm website.
If you are planning to visit the both the octopus farm and the seahorse farm together it is very important to do so in the following sequence:
First stop: the Ocean Rider Seahorse Farm
Second stop: the Kanaloa Octopus farm
If you visit the octopus farm first you will not be allowed on the seahorse farm tour due to bio-security concerns.
Coral lab tours (by the Legacy Reef Foundation)
The Legacy Reef Foundation organizes tours at their facility two days per week that include a lecture by a marine scientist and a tour of their coral lab. The tour lasts approximately 90 minutes and you'll get to learn all about coral – what it is, where it lives, how it feeds, the problems it's currently dealing with in our oceans and what you can do to help.
More information at the Legacy Reef Foundation website.
Sea Salt Farm tours
Salt in Hawaii is traditionally used in ceremonial blessings, to purify and to preserve an abundant catch of fish. The Kona Sea Salt farm is located on the site of an ancient and vibrant Hawaiian settlement that was covered in lava by the 1801 eruption of Mount Hualalai. Now, salt is made by evaporation of pristine ocean water extracted 2200 feet below the surface.
During the tour of their facility you will learn about the role of salt in Hawaiian culture, about their special water source, and about the salt harvesting process. You will also get to taste several of the flavored salts they produce.
If you are interested you can book a sunset tour on the Kona Sea Salt website.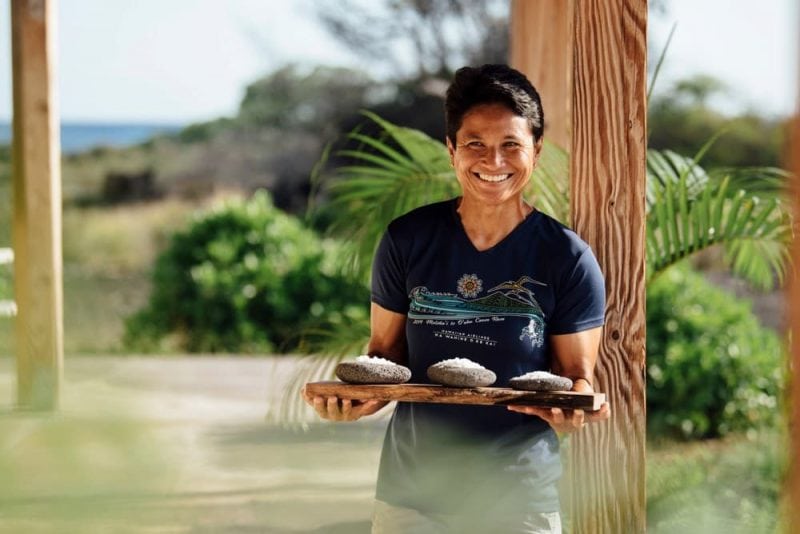 Big Island Abalone
Big Island Abalone operates a 10-acre aquafarm to serve the world market for premium, live abalone.
They organize a tour that last from 45 min to an hour and that includes a tasting of their fresh grilled Abalone. Your guide will introduce you to the Farm's history and the secrets related to breeding and raising abalone. A big part of the tour is the seaweed (Dulse Algae) growth operation, which takes almost half the farm and is the abalone's favorite food. At the end of the tour, you will have the opportunity to get close and personal with different sea critters that were collected from our ocean water pipes, followed by the abalone tasting.
For more information and booking see the Big Island Abalone website.
Guided Coastal History Tour
Once a week a guided 1.5-hour tour is organized focusing on the unique habitat at Keahole Point. Participants will learn about the ecology at Makako Bay and varied coastal plants while watching for resident and migrant seabirds, tidepool inhabitants and marine life.
See the guided coastal tour website for more information.