Kailua Kona lies smack in the middle of coffee country on the Big Island. This is the home of Kona coffee: a scenic, tropical and narrow region on the slopes of the Hualalai and Mauna Loa volcanoes in the north and south Kona district.
Kona Coffee is world-renowned and consistently rated among the very best gourmet coffees in the world.  If you are a coffee enthusiast you shouldn't visit the Big Island without a trying out a good cup of Kona Coffee. You can do this as easily as with a well-placed order in a roadside coffee shack, a cafe, or restaurant, but you can also go on a farm tour.
On this page we discuss the following ways of getting to know Kona Coffee:
Table of Contents
The guide you are now reading is all about Kona coffee tours. We have also written a very interesting Kona coffee guide in which we describe the rich history and background of Kona coffee: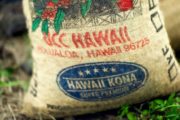 The world famous Kona Coffee beans grow only on two Big Island volcanoes. Learn all about Kona and other delicious Hawaiian (Ka'u, Hamakua and Puna) Coffees.
Coffee farms that organize tours on the Big Island
We list some of the coffee farms that organize tours on their property below. The farms are split between farms in Kona, farms in Kaʻu, and coffee farms close to Hilo.
We have also added all the tours listed below to a map, which you can see further down.
Kona coffee tours (near Kona)
Coffee tours in Kaʻu
The Kaʻu coffee mill: organizes free ~20 minute tours of their orchards twice a day. Find out more on their website.
Coffee tours close to Hilo
Hilo Coffee Mill: Tours of the farm and mill that need to be scheduled. See their website for details.
Other places to buy / try good coffee close to Hilo
Paradise Roasters is a micro-roaster that specializes in high quality and unique espressos and single origin coffee – a great place to talk story and buy wonderful local roasts. Located in Hilo at 250 Keawe St, more information on their website.
Halfway between Hilo and Volcano Village, Koana is a cozy coffee shop run by a coffee-loving husband and wife team. More on their website.
Map of our favorite coffee farms that organize tours
We summarize all coffee farms listed on this page and that organize tours on their property, on the map below. Also included are a few tea plantations that organize tours and tastings at their farms (green symbols).
What to expect on a Kona Coffee tour
There are now more than 650 coffee farms of all sizes clustered along the ±20 miles of scenic roads on the Hualalai and Mauna Loa slopes. Many of these farms offer tours to the public.
During these tours you are typically shown around the plantation to see the growing coffee in the field. Then you are taken through the processes that are needed to go from a growing coffee bean to a cup of coffee (drying, processing, and roasting). Many tours end with a (free) tasting of the coffee, very close to a showroom or visitor center where you can buy the local coffee.
Coffee Tours last on average about 30 minutes and are often walking tours (but with only a little bit of walking). Details though vary on a farm-by-farm basis. Most tours start on the farm, which means you have to drive there yourself. Some tours need to be scheduled ahead of time to make sure there are people to show you around, and many tours are free of charge.
To the farm! Planning your own Kona Coffee tour
Visiting one (or a couple of) coffee farms during the day to learn about Kona coffee, to buy some coffee and of course for free tastings, is a great way to spend your day!
In our experience it is convenient to plan the visit to a coffee farm in combination with for example a trip to the Puʻuhonua O Honaunau national park or with a snorkeling expedition to one of our favorite snorkeling spots: Kealakekua bay or Honaunau bay (two step).
All the Kona coffee farms are located on or near the 20 miles of scenic country roads. Add to that the presence of a few shops, cafes, and the colorfully painted church, and you have the perfect excuse for a self-drive coffee tour.  Plan about one to two hours for a visit, and make sure to check ahead of time whether you need to schedule a tour at your farm of choice.
What is the best month to go on a coffee tour?
Coffee farms on the Big Island are open for tours and tastings the whole your round, and the coffee they serve for the free tasting is always fresh. This means that there really is not a 'bad' time to visit.
However! Coffee in Hawaii has a yearly growing cycle and depending on when you visit you will see other things in the coffee fields.
Our favorite stages of the coffee cycle are those between the blossoming (February + March) and the harvesting of the ripe, red, fruits (August).
When to see the small, white, coffee flowers, or "Kona Snow"
When coffee plants bloom in the months February and March they carry lots of beautiful, small and fragrant flowers.  These flowers are especially impressive when you see whole fields of coffee covered with them. It almost looks like the coffee plants are covered in snow, and this is why the flowering fields of coffee are also known as "Kona snow".
When to see the green and red coffee berries (cherries)
When the flowers are pollinated they fall off and a small green berry starts growing at its base.  These berries typically start appearing on the plants in April, and they stay green until they are red, ripe, and ready to be harvested. The berries turn so red that they are called "cherries" for their resemblance to a cherry.
Not all the coffee berries ripen at the same time, and each tree needs to be hand-picked several times between August and ~January.
What is the best time to go on a Kona coffee tour?
Coffee trees love both sunshine and frequent rains, so expect both. As a rule of thumb, the mornings on the south Kona coast are sunny, and the clouds and rain appear after about 1PM. Read more about average weather in Kona.
So, if you like sunshine the best time to plan your Kona coffee tour is before noon.
(Even) More interesting things to know about Kona Coffee
If you would like to find our more about Kona coffee you should have a look at our in-depth Kona Coffee guide. This guide will tell you about:
The 200 year history of Kona Coffee on the Big Island
Why Kona Coffee is so special
What to pay attention to when buying Kona Coffee in a shop or online
The other very tasty Big Island coffees that are not "Kona" (but that are as tasty and more affordable ).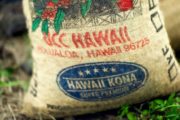 The world famous Kona Coffee beans grow only on two Big Island volcanoes. Learn all about Kona and other delicious Hawaiian (Ka'u, Hamakua and Puna) Coffees.