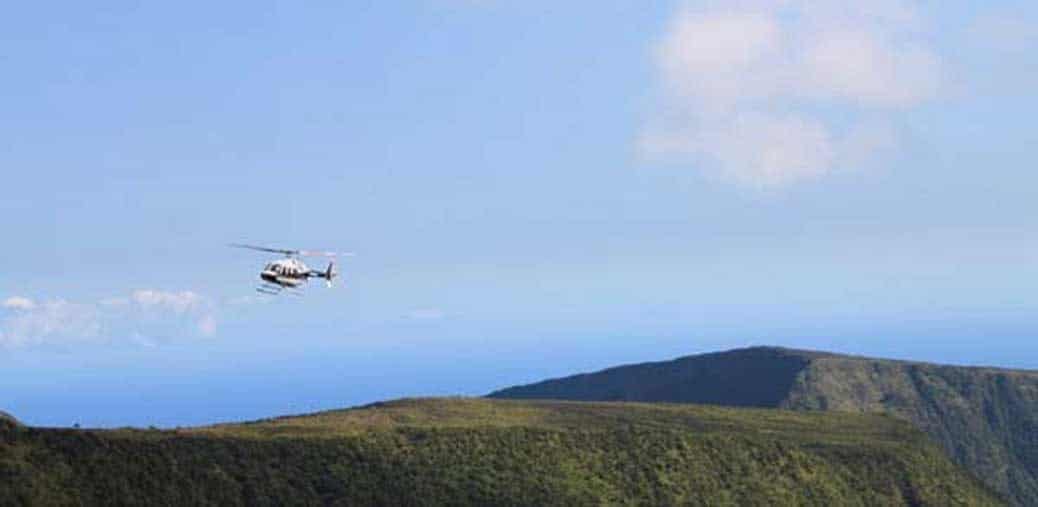 Helicopter Tours on the Big Island
Some of the most amazing places on the Big Island are very difficult to reach over land. Using a helicopter makes it possible to see many of these wonders in a very short amount of time. Helicopter tours depart from Kona, Hilo, and Waikoloa and can last between 1 hour and 1 day.
We discuss the following topics in this guide:
Taking a helicopter tour early during your stay can help you set your priorities for the rest of your stay on the Big Island.
Helicopter tours are not cheap as prices start at about $150/hour. We consider them one of the unforgettable experiences on the Big Island despite their price. If your budget allows it we highly recommend taking one.
Added value of a Helicopter tour
Flying over the Big Island in a helicopter lets you see the land in a way that few people ever will. A helicopter tour can help you pick your favorite destinations and help decide how to arrange the rest of your stay.
Think for example about the hidden waterfalls falling over the 2000-feet high cliffs of Waimanu valley and Waipi'o valley.  These sights are very difficult to see from the ground, but perfect to explore from a helicopter.
Taking a helicopter tour is also the only way to get an (almost) guaranteed look at the lava. The Kilauea volcano can be unpredictable and easily visible lava flows have been common the last few decades. However, there is no guarantee that this will be the case during your visit. Helicopters can fly over the Kilauea craters, allowing you to see straight into the fiery action.
If you also want to try your luck at hiking to the lava flow, have a look at our red-hot
lava viewing guide
.
Different kinds of helicopter tours
Not all helicopter tours are the same. The three main attractions on the Big Island that are definitely worth  being seen from the air are:
1:
Lava and volcanoes helicopter tours
The lava and volcanoes helicopter tours are best suited for those people that mostly want to see the lava. These tours tend to be the shortest and most affordable if they depart from Hilo because the active part of the Kilauea volcano is closest to Hilo airport.
2:
Waterfalls and dramatic cliffs
The best places to see waterfalls and dramatic cliffs on the Big Island are on the north (Kohala) and east (Hilo + Hamakua) side of the island. The Kohala coast with the Waipi'o valley 2000+ ft cliffs and waterfalls will hands-down be the best part of this ride.
The above two tours (#1 and #2) tend to be the most affordable because they don't last as long as the third option:
3:
Circle island helicopter tours
A circle island helicopter tour combines all of the above, sometimes with a bit more. These tours can take the whole day, with at most ~2 hours of flight time. The rest of the time is used for on-ground sightseeing at locations that differ per tour. If you do decide to go for one of the circle island tours, try to make sure that you will fly over the west (Kona) coast to see the spectacular sunset.
Helicopter Tours from Kona or from Hilo?
Helicopter tours leave from 3 places:  the Hilo airport, the Kona airport, and the Hapuna heliport. The price difference between these locations is significant. Kona tours cost sometimes almost twice as much as the Hilo tours.
There are good reasons for this (airtime, see next paragraph) and depending on what you want from the tour, you might be better off choosing the Kona option.
It makes sense that tours from Hilo are cheaper because your departure port is closer to the active lava and flight times are shorter. After all, you mostly pay for the amount of time that is spent in the air. Tours from Hilo often involve a quick return trip to the lava, with perhaps a visit to one or two of the nearby waterfalls.
Tours from Kona need to cover more ground to get to the active lava. Because of this, they often include a visit to the lava into a 'circle island' tour. This means you may get the see the impressive 2000 ft waterfalls at the Kohala coast that are almost impossible to see without an aerial tour. You will also fly over the tropical and lush Hamakua coast, and get to see south Kona with famous sites such as the place of refuge.
Summarizing, if you are looking to see just the lava, you should try booking your tour from Hilo. If you have the resources to splurge and the desire to see more of the Big Island from the air, a circle island tour is highly recommended!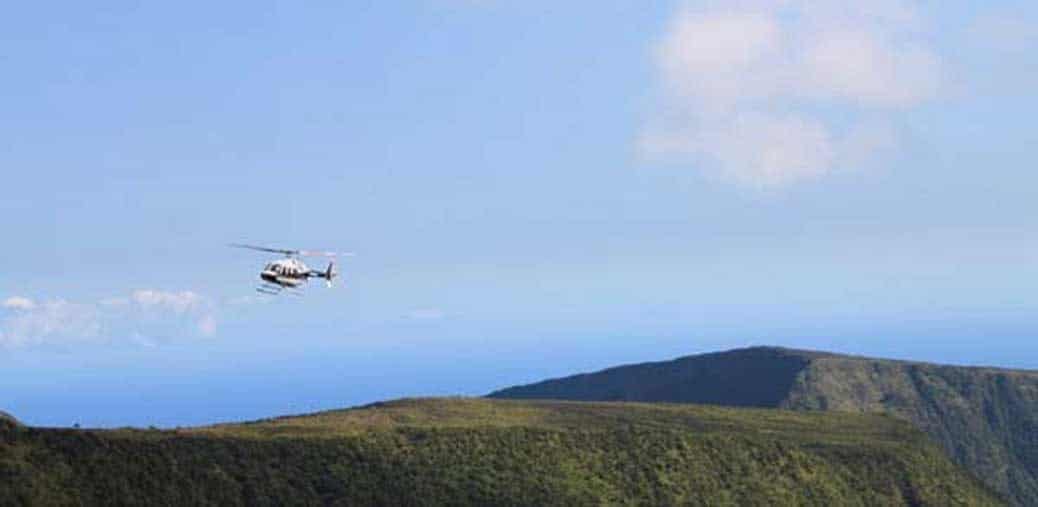 Most popular helicopter tour companies
Helicopter tours are big business in Hawaii and there is a healthy competition between tour companies. Most of these companies offer special prices or discounts at least a couple of months each year, and it is certainly worth your time to compare prices. For your convenience we list the biggest four Helicopter Tour Agencies (in random order):
Comparison of helicopter tour vendors
You can directly compare the prices for the tours offered by Blue Hawaiian Helicopter Tours, Paradise Helicopters, and Sunset Helicopters by clicking on either the banner below or on this URL
. This will take you to the 'hawaiiactivities' website, which is useful to compare helicopter tours and to find occasional discounts1.


From where do the helicopter tours depart?
Your helicopter will off course depart from an airport or a heliport, but which one will depend on the company you choose. Some even provide free transport to and from the airport. We summarize the departure heliports for the biggest companies below:
Paradise Helicopters flies from both the Hilo and the Kona airport. They may provide free round-trip transportation to and from the Kona International Airport, but make sure to check the conditions on their website.
Blue Hawaiian helicopters depart both from the Hilo airport and from the Waikoloa Heliport, 4 miles SW of Waikoloa Village.
Safari Helicopters have their home base in Hilo, at the Hilo airport helipad.
Sunshine Helicopters flies from the Hapuna Heliport, located 30 minutes (27 miles) north of the Kona airport east of the Hapuna Golf Course.
Checklist for a stellar helicopter tour
We have made a checklist to go through if you have never been on a helicopter tour before. You can use this checklist for example when deciding between different tours. Do not hesitate to contact each tour operator before booking, because a little preparation really can make a big difference.
Our checklist for a stellar helicopter tour with questions to ask the helicopter tour operator:
How much airtime do I get during your tour?
How many passengers do you take in your helicopter?
What areas of the Big Island do you fly over?
Can you guarantee a window seat? (very important if you want to take photo's!)
How close does your helicopter take me to waterfalls, craters, lava?
Is a tour with "doors off" possible?
From which place on the Big Island do you helicopters take off? And do you provide transport from [your location]?
If there are no active lava flows, can we still see lava lakes or otherwise active lava?
How flexible are you on the timing and route of the tour?
Do you offer special fares?
Finally: wear a dark or black shirt if you don't go on a "doors off" helicopter tour, and bring a polarizing filter if you have one. Reflections of light clothes will reflect back from the windows into your camera and these are some pictures that you don't want to be in yourself.
Helicopter tour Video
To show you what to expect during a helicopter tour we show you the video that youtube user bship5225, recorded in 2011. It shows footage shot during a "doors off" helicopter tour over the Kilauea volcano, as well as a few waterfalls.
---
1. We are part of the hawaiiactivities affiliate program. Read more about our participation. ↩