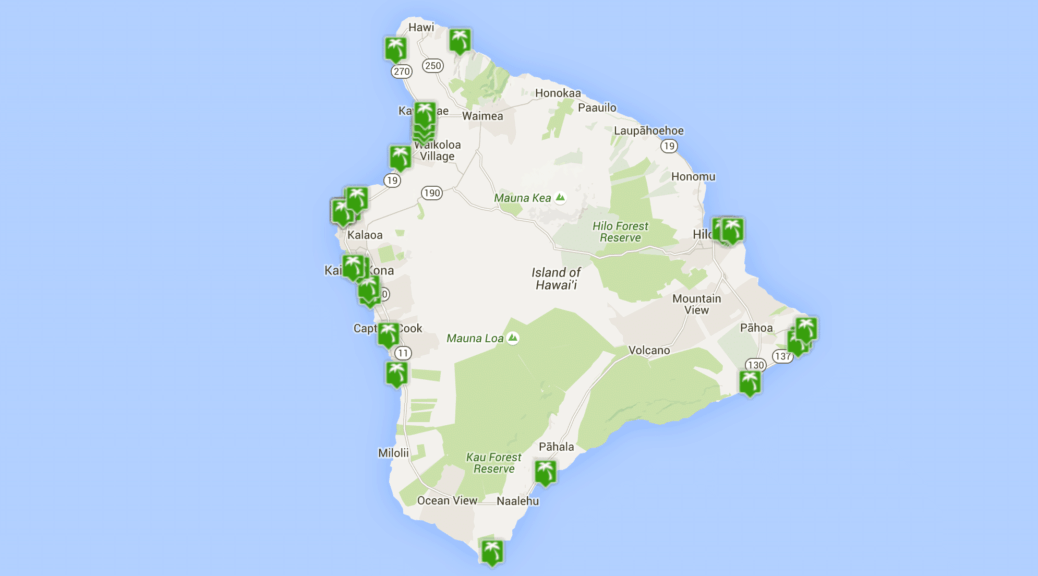 Beaches on the Big Island
Beaches on the Big Island are unlike those you find back home. The island of Hawai'i is geologically speaking  a very young island and there are no miles and miles of pristine white powder-sand beaches as you can find on the other, older, Hawaiian Islands. Instead, get ready for beaches made out of pitch black sand,  crystal green sand, coarse white sand, coral and even newly formed lava rocks.
Because the Big Island is still very young, new beaches appear and disappear regularly. All but one of the beaches we discuss in this article are already well established and will be there. Only "magic sands" tends to be a bit fickle.
Map of Beaches on the Big Island
These are the most visited beaches on the Big Island. You can zoom and navigate the map via the embedded icons, and click on the beach/palm icons to get more information on each beach. In these descriptions, we link to a more in-depth article this beach including pictures.   (back to top)
List of Big Island Beaches
All beaches on the Big Island are definitely worth a visit, but even we have not managed to do so yet. Because not all beaches are created equal we give you the following list of our favorite beaches:
Water and Beach Safety in Hawaii
Take care in and around the water. As peaceful and inviting as the ocean may look – and often is, it also commands respect. Strong, hidden currents can overpower even the most seasoned swimmers. Avoid walking on coral as it may cut your feet, as well as damage the coral. Sea urchins also live in crevices between rocks and coral. Never turn your back to the ocean, and always follow posted signs. More practical tips are: (back to top)
Some beaches may be closed because of high surf and/or dangerous currents. You can find up-to-date information on possible hazard ratings of the Big Island beaches at this website of the county of Hawai'i.

The Hawaiian sun can be very strong! Be sure to apply sunscreen generously and often to prevent a heavy sunburn, Wear a shirt if you go out snorkeling.

Even

though the crime rate on Hawaii is low, visitors should be as cautious as they would be at any other destination. Do not lock valuables in your vehicle. If you must, pack items out of sight before parking.

Please make sure to clean up after yourself.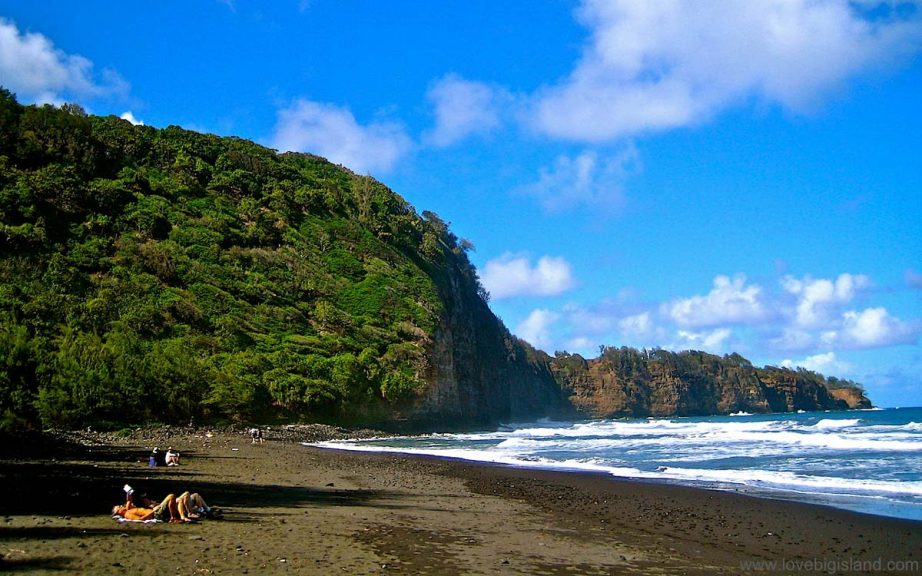 Things to do on the beach
Beaches on the Big Island are not as crowded as they are on the other Islands. Especially if you go to the more remote beaches during weekdays it is possible that you find the beach all to yourself. This also means that some beaches have very basic facilities. Be sure to take plenty of water and sunscreen.
Going to the beach offers many methods of recreation. You don't need to be a fan of tanning to enjoy yourself. Take your snorkel gear and you can spend hours under water swimming between fish in every color of the rainbow. If you like playing in the waves, why not go body surfing or take along a bodyboard, SUP board or surfboard?
You will never have to get bored on the beach – even if you travel in a big group! If you are not the sun worshiper your travel companion is, bring a book, good food and drinks, snorkel gear, or whatever you enjoy doing, and do your thing. Let me reiterate those last two important words: "snorkel" and "gear". The waters around the big island are teaming with beautiful life, make sure not to miss it! Read more on snorkeling and buying or renting gear. (back to top)