These are our 3 favorite beaches on the Big Island. Read on to find out why we like those beaches so much and to learn why the sand on those beaches is white, black and green.
Our #1 colored sand beach for the island of Hawaiʻi is:

Table of contents
Favorite black sand beach: Punaluu
Favorite green sand beach: Papakolea
Favorite white sand beach: Hapuna
Table of Contents

Favorite black sand beach: Punaluu
Favorite green sand beach: Papakolea
Favorite white sand beach: Hapuna
See our complete list of Big Island beaches for the great beaches that didn't make it into our top 3. We also have some pretty solid advice on beach activities on this website. See for example our information about snorkeling rentals and snorkeling safety in our snorkeling guide or read about our 3 favorite snorkeling beaches.
If you are in Hawaii between December and early April you should make sure to read our whale watching guide.
Punaluʻu Black Sand Beach
Punaluʻu beach is the most famous black sand beach of Hawaiʻi and is colloquially called 'Black Sand Beach'. Being the most expansive and easily accessible of all black sand beaches on the Big Island, Punaluʻu is well-suited for seeing turtles, sunbathing, coastal hikes or a nice picnic. Swimming or snorkeling is also possible, but there may be other places more suitable (see below).
You can often also see the endangered Hawaiian Green Sea Turtles basking in the sun on the beach.
Swimming: Unfortunately, there can be strong currents in the water at Punaluʻu beach. The best place to enter the water is the small boat ramp on the left (facing the water) of the beach. Stay out of the water if the surf is high.
Snorkeling: Snorkeling at Punaluʻu is often difficult due to low visibility. The best place to snorkel nearby is Ninole Cove. Ninole Cove is a short walk from Punaluʻu and offers a sheltered bay with sand channels that provide decent entry into the ocean. You can either drive there (park below the sea mountain golf course clubhouse) or take a short but rewarding hike from the Punaluʻu parking lot. Follow the unmarked grassy trail southwards (going right if you face Ma Kai/the ocean) for 5 minutes.
Directions to Punaluʻu Beach:
Punaluʻu beach is most easily accessible from Volcano Village and is one of our recommended activities while spending time in Volcano. To get there from Volcano Village, take Hwy 11 towards Kona, and turn Ma Kai (towards to ocean) between mile marker 56 and 57 on Alanui Road. If you pass Whittington Beach Park, you have driven too far.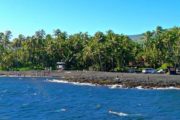 Punaluʻu beach is the most famous black sand beach of Hawaii. It is easily accessible and great for swimming, seeing turtles, and snorkeling..
Why is the sand on black sand beaches black?
The sand on all black sand beaches on Hawaii is made out of tiny fragments of lava. In contrast to the green and white sand, most of the black sand is created explosively. When hot lava enters the water it cools down so suddenly that it solidifies, and shatters into large amounts of black sand. Over time these lava fragments are ground down into smaller and smoother grains, which is why walking on very young black sand beaches sometimes can be a bit painful.
Why are our black sand beaches so hot? Easy: #lava and #turtles! <3 Big Island
twitter share
click to tweet
Black sand is also very good at retaining heat as you will notice when you are walking on the sand during a warm sunny day. This is the reason why the sea turtles choose black sand beaches to build their nests.  The best beaches to spot turtles are beaches with black sand.
Papakōlea Green Sand Beach
Green sand beach is one of two green sand beaches in the united states, and not easy to reach. It takes half a day if you really enjoy this beach (take snacks and plenty of water), but the payoffs are great! Its remoteness guarantees that you will have most of the beach for yourself, and the bay is calm and good for snorkeling. The hike to and from green sand beach is 5-mile round trip (see directions below), so be prepared and take plenty of water. This is one beach that you will not easily forget in the coming decades!
You can read more about Papakolea in our guide written specifically for this beach: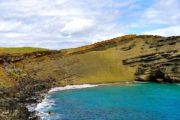 Guide to visiting Green Sand Beach (Papakōlea) with driving directions and hiking tips for one of two(!) green sand beaches in the USA.
Directions to Papakōlea:
Take the road to 'South Point' between mile markers 69 and 70 on Hwy 11 (between Kona and Volcano Village), and drive to the small harbor at the end. Here you find a parking lot where you can leave your car. Although it is possible to take a 4WD car all the way to green sand beach using the car damages the road and environment and is heavily frowned upon by the locals. Walk to the ocean and take the road to the left (facing the water, East direction). Follow this road with the ocean on your right hand for about 2 1/2 miles and you will get to the cliffs above the Green Sand Beach. Climb down along the lava cliff on the west side of the bay, and wear plenty of sunscreen!
Why is the sand green?
Green sand beach gets its name from the green glassy olivine crystals that make up most of the sand on this beach. The olivines are washed out of a 49.000-year-old cinder cone that spewed olivine-rich lava, and that still is visible on the east side of the bay.
Olivine crystals from a 49.000-year-old volcanic eruption make the sand at Papakōlea green!
twitter share
click to tweet
Olivine is locally known as "Hawaiian diamond and is denser and tougher than the ash fragments, glass and black pyroxene that make up the rest of the rocks and lava flows. Therefore it tends to accumulate on the beach whereas the usual volcanic sand is swept out to sea. The 'greenness' of the beach then is a direct reflection of the ratio between the green olivine and the other sand-components.
There are more places where you can find such olivines, for example in the Kilaueaʻiki crater or mixed through the sand of Richardson ocean park (in Hilo).
Hāpuna Beach
Hāpuna beach is half a mile long, almost always sunny, and has a continuous shore break that is great fun to play in for all ages.
This beach only gets 10 inches of rain annually, and the beach is lined by trees and a shaded picnic pavilion to offer shelter. There is also a professional lifeguard on duty year-round, making this a great family beach. Oh, and we almost forgot to mention that Hāpuna Beach regularly is voted among the 'best beaches in Hawaiʻi!
Snorkeling is also possible at Hāpuna beach. You can snorkel around the small cliff to the north of the beach (but do not go alone, you will not be in sight of the lifeguards there), or around the rocky point on the South of the beach.
The downside of these stellar statistics is that the beach can become very crowded. Make sure to go early if you want to find a good parking spot and a shady place on the beach.
Directions to Hāpuna Beach
Hāpuna Beach lies North of Kailua-Kona, around mile marker 70 of Hwy 19. Turn Ma Kai (towards the ocean) at the sign for Hāpuna Beach State Park and continue for 1/4 mile to the large parking lot. Do not leave valuables in your car! Visitors to the Big Island pay a $5 parking fee to help maintain the park. Parking is free for locals.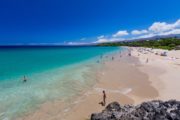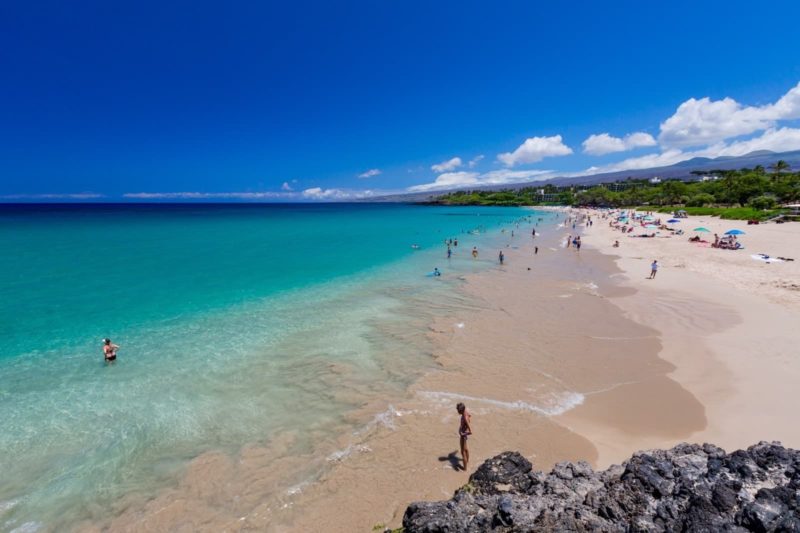 Great for suntanning and swimming and consistently voted among the best beaches of Hawaiʻi, Hāpuna is one of our favorites beaches!.
Other nearby white sand beaches:
There are many white sand beaches close to Hapuna. These are some of our favorites:
White sand or fish feed – you decide!
In contrast to most white sand beaches that are composed of 'inorganic sand' (e.g. tiny pieces of quartz and other minerals), the white sand on the beaches of Hawaii is mostly made of shells from marine organisms and coral fragments.
Waves ("mechanical erosion") and marine animals ("biological erosion") team up and break down the reefs and shells to deliver the sand to the beach. Parrot fish are especially known for munching the coral whole and spitting it out as sand. One downside of this if that this kind of sand is not suited for building sand castles. The sand tends to have rounded edges and does not stack well.
Pick up a couple of grains of sand and have a closer look if you are interested in the exact composition of the sand. Chances are you can still recognize many shells and pieces of multicolored coral. For an extra spectacular effect, try the macro function on your (digital) camera.
Share the love on social media
The times are changing, and so are we! Social sharing is rapidly becoming more important and because of this we are experimenting with making more 'shareable' images and we are exited to find out what you think about them.
If you like the image below, please consider sharing it on your favorite social media. If you want to go overboard you can tag us with the share and show us the love. Mahalo!