Horseback Riding on the Big Island
If you like Horseback Riding you are on the right island. There are many horses on the Big Island, especially in and around Waimea. The scenic open landscapes here are great for horse-powered adventures, and did you know that the island of Hawaii has a rich equestrian history including Hawaiian Cowboys?
The history of Paniolos – the Cowboys of Hawaii
Hawai'i has its own brand of cowboys, or Paniolo's, and a rich history in horseback riding. When the Spanish vaqueros ("cowboys") arrived on the island in the early 19th century they brought the traditional euro-latin culture of riding and roping skills. The king of Hawaii hired these vaqueros to teach Hawaiians herding and ranching skills in order to control the many cows that were given to the Hawaiian royalty as a gift, but now were roaming the island almost uncontrolled.
As the Hawaiian culture and latin vaquero cultures mingled, a unique breed of cowboy emerged: the Paniolo.  Waimea on the Big Island is Paniolo central, and the place to be if you like horseback riding – local style!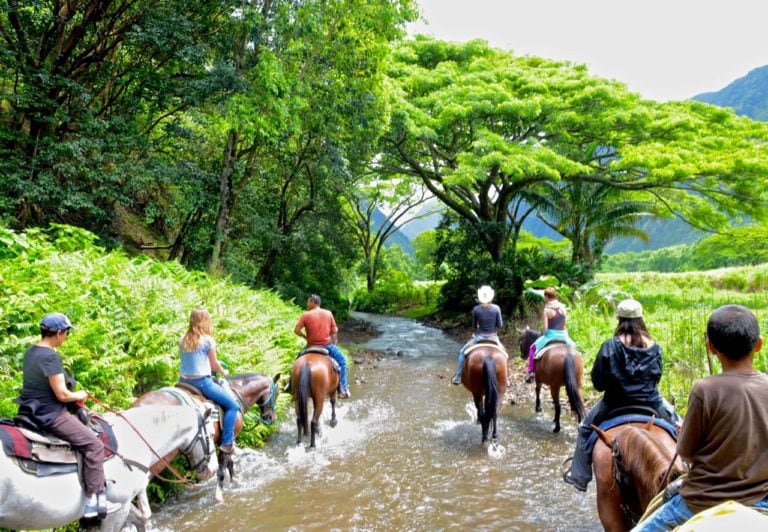 Horseback riding tours on the Big Island

Saddle up, ride through the wide-open spaces of Waimea, or explore the trails in and above Waipi'o valley for amazing sightseeing and back country waterfalls
Several ranches offer the opportunity to explore their (often very large) range as part of a guided horseback riding tour.  Trails take you through the pastures with spectacular views of the coastline and peaks. It is also possible to see other spectacular parts of the Big Island, such as Waipi'o valley.
Tours in Waimea
Two good vendors arranging horseback riding tours are located on the northernmost tip of the Big Island, 20 minutes (by car) north of Waimea: