Plan to spend a full day exploring the 40 miles between Hilo and Waipi'o Valley that make up the Hāmākua coast. The spectacular waterfalls and incredible canyons lined by lush rainforest will make you want saying "Let's stop there!" over and over again. Don't forget your camera, and enjoy the extremely scenic drive.
Our favorite three highlights of the Hāmākua coast are:
Table of Contents

The tropical and lush Botanical gardens + waterfalls
 The steep cliffs and black sand beach of Waipi'o Valley
Good to know: you can explore everything listed on this page on a day-long scenic drive. To make the most of your day we suggest you use a GPS guide such as the North Island Jungle Adventure Loop from Shaka Guides.
Pepeʻekeo Scenic Drive
A good place to start the day is with the Pepe'ekeo Scenic Drive located just a few minutes north of Hilo on Highway 19 (more scenic drives on the Big Island). This "old Road through old Hawai'i" is a four mile  (half hour) scenic exploration. The road parallels Highway 19 but is removed worlds away from the traffic and hustle along the main road. Rolling along old cane fields, jungle-canopied in places, passing waterfalls and crossing creeks, the Pepe'ekeo Scenic Drive is a special treat. On a sunny day, on a rainy day, it doesn't matter; this scenic drive is a gem.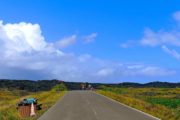 See the real Hawaii from your car. Map + Descriptions of our 5 favorite scenic drives, things to do and see, and where to stop on the way..
Gardens and Waterfalls
The Hawaii Tropical Bioreserve & Garden is a museum of living plants that attracts photographers, gardeners, botanists, scientists, and nature lovers from around the world. The botanical gardens are located on the  Pepe'ekeo scenic drive at Onomea Bay, approximately 8.5 miles north of Hilo. The garden's rainforest trails cross many streams and waterfalls, and harbors more than 2000 species of rare and exotic plants!
There are, by the way, more botanical gardens on the Hamakua coast.
As you drive a little farther north, you will even more eye candy. The 'Akaka Falls are the most famous of all waterfalls in Hawaii. The falls are easily accessible from the main road  via a short trail that also takes you through a lush rainforest with giant ferns, fragrant ginger and immense bamboo groves!
Have a look at our 5 favorite waterfalls on the Big Island if you are into lush rainforest and spectacular waterfalls.
Some miles up are the multi-tiered Umauma Falls. The waterfalls are nice but many visitors feel the views they get don't warrant the 10$ (2016 rate) admission fee. As you drive further and further up the Hāmākua coast, more worthy stops include:
The Kalōpā state recreation area which includes an easy 0.7-mile round trip family nature hike in a native 'ohi'a forest at 2000-foot elevation [more information].
The charmingly odd, old fashioned former sugar town of Honoka'a. This town is home to one of our favorite foods of the Big Island: Malassada's from Tex Drive Inn. The Mauna Kea Tea farm with tea tastings  and farm tours is also close.
Laupāhoehoe Point Beach Park offers stunning ocean vistas in a town with a tragic past. You can find a monument to the 20 students and four teachers that lost their lives here during the April 1st 1946 tsunami. There is also a Train Museum in Laupāhoehoe.
Waipiʻo Valley
As happens more often, the best is kept for the last on the Hāmākua coast: Waipiʻo Valley! Also named the "valley of kings", this valley used to be the political and religious center of ancient Hawaiian culture, and housed many thousands of people. Presently, less than 100 people live in this valley, leaving plenty of room for all the stunning hikes, many waterfalls and a magical black-sand beach!
Getting down into the valley is not straightforward and might not be possible during the time of your visit (see here). The road down is very steep, curvy, and treacherous, and only 4WD vehicles are allowed on it. You can walk in (but be prepared, there are 1000 vertical feet to conquer), or choose for a shuttle service and  tour that will take you down. Even if you do no descend into the valley, the Waipi'o Valley overlook offers a great glimpse of what lies below!
Waipiʻo Valley
Once a center of Hawaiian life and culture, Waipiʻo Valley remains a symbol of the island's proud heritage and is a place of unparalleled natural beauty. It is a remote valley surrounded by steep, lush cliffs that rise dramatically from the valley floor and is home to cascading waterfalls, verdant vegetation, and a rich cultural history.  With its remote location and rugged terrain, Waipiʻo Valley offers visitors an opportunity to escape the crowds and experience the raw beauty of Hawaii's landscapes.