The Mehana brewing company is Hawai'i's largest independent craft brewer and houses two brands: Hawaii Nui and Mehana. Their brewery in Hilo on the Big Island brews the following beers: Hawai'i Nui Brewing Kaua'i Golden Ale, Sunset Amber Ale, Hapa Brown Ale, Tsunami IPA, Southern Cross Seasonal Ale,  Mehana Brewing Volcano Red Ale, Mauna Kea Pale Ale, Humpback Blue Beer, Hawai'i Lager and A'lala Hawaiian Crow Porter. Two of their beers have been decorated: Hawai'i Nui Brewing Hapa Brown Ale is the winner of the World Beer Cup2010 Silver Medal for American Brown Ale and the Gold Medal in the US Open of Beer 2010, also in the American Brown Ale Category.Mehana Mauna Kea Pale Ale is the winner of the Silver Medal in the US Open of Beer 2010 in the American Pale Ale Category.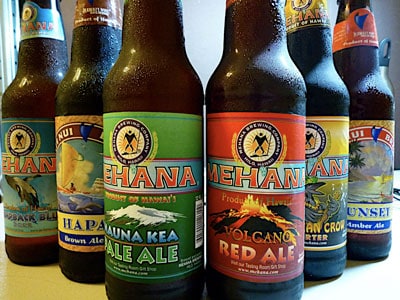 Their tasting room and gift shop are open most days from noon on.
More local breweries on the Big Island
In Waimea
If you like exploring Hawaii by its very tasty micro brews, you cannot miss going to Waimea. The Big Island Brewhaus in Waimea just opened their doors, and they already have an impressive collection of beers for you to taste.
In Kona
The Kona Brewing Company in Kona operates a very popular brewpub in Kona with good (pub) food and their own, Hawaii brewn, beers. If you want to go there for diner make sure to call ahead for a reservation to stay out of the waiting line that you can often find at their front door.