Rainbow Falls (Waiānuenue) in Hilo, Hawaii
The Rainbow Falls in Hilo are a good place to visit early in the morning perhaps even before breakfast. This broad waterfall in the Wailuku river is conveniently located within Hilo town. It cascades over a lava cave that according to legends is home to the ancient Hawaiian goddess Hina, the goddess of the moon.
The falls themselves are a modest 80 ft high, small compared the nearby 'Akaka falls. The falls can be either roaring or they can be reduced to a trickle depending on the amount of rainfall upstream during the days before. We have included pictures of both scenarios to this page.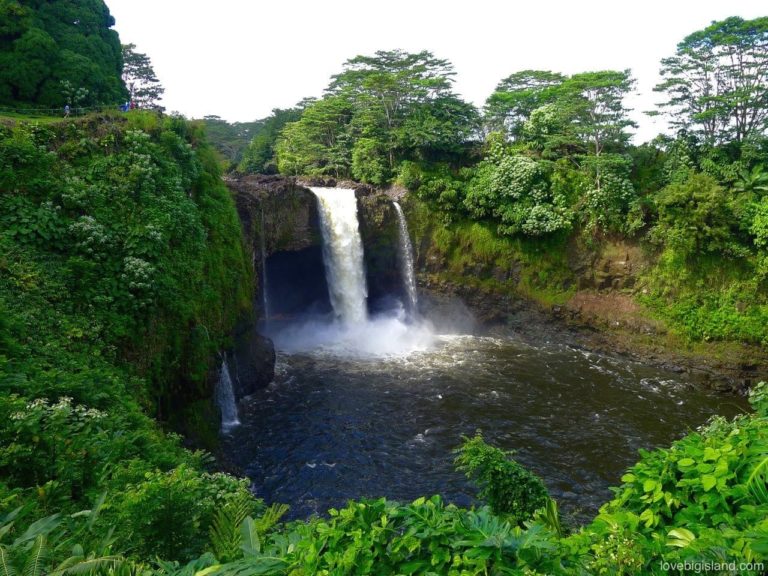 If you arrive early on a sunny morning, you will get to see the spectacular sight that has given the name to these waterfalls. The morning sun refracts through the falling water and creates rainbows.
You can see the rainbow falls flowing in this 11-second video from 2016:
Getting to the top of the rainbow falls
The short climb to the top of the rainbow falls is well worth the effort. As you climb up along the left shoulder of the falls (left, when facing the rainbow falls) you walk past lush vegetation and some immense banyan trees. After walking for a few minutes you will be rewarded with a new perspective on the falls.
A short distance upstream of the rainbow falls you can also find the Pe'epe'e falls. Both waterfalls belong to our list of 5 best Big Island waterfalls.
The Rainbow Falls are actually called Waiānuenue
In the Hawaiian language, the rainbow falls are called "rainbow [seen in] water", or Waiānuenue.
If you are interested in the meaning of Hawaiian place names you can find more information on them here.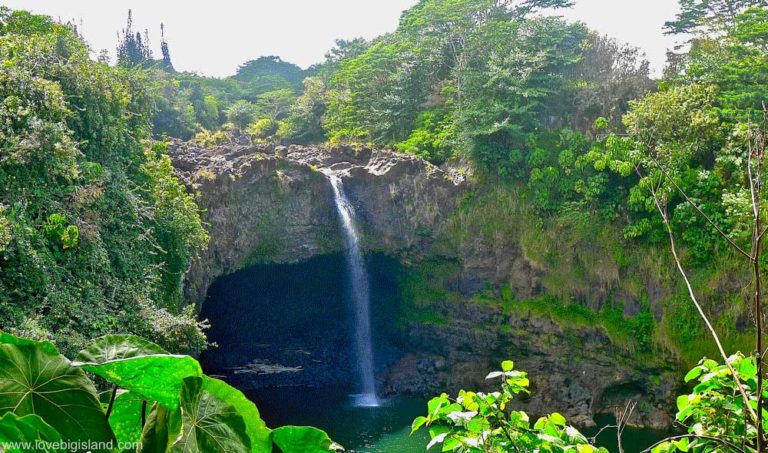 Directions to the Rainbow Falls
You can find the Rainbow Falls at the northwest border of Hilo, just off Rainbow Drive. To get to the falls, drive up Wainuenue Avenue, bear to the right on Rainbow Drive, and park in the parking lot on your right.