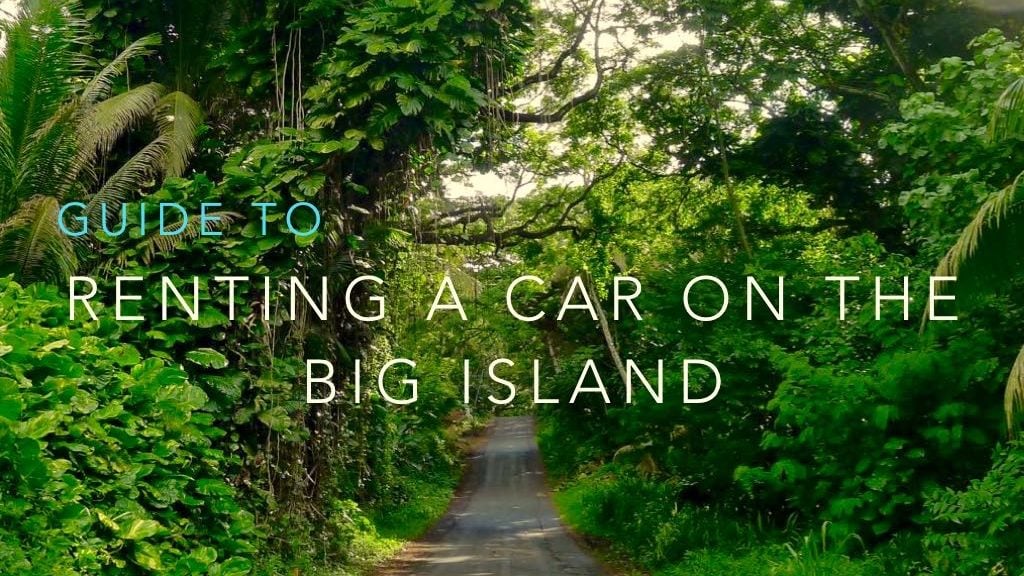 Car Rentals on the Big Island
We think that renting a car in Hawaii is one of the most important things you can do to get the most out of your vacation. Even though it is possible to make your way around the Big Island using public transport it is both more time efficient and convenient to rent a car. Over 80% of the visitors to the Big Island rent a car during their stay.
The best way to find a good deal on a Hawaiian car rental if to book early, preferably with a
local rental agency
.
Choosing what kind of car to rent – and from what company – is not always straightforward. If you are traveling with a larger group, for example, you might want to consider renting a minivan. If you want to do some heavy-duty exploring and want to go off the beaten track or take your car to the summit of Mauna Kea, a 4WD car can be a good option. Or do you want to cruise around with your roof open? In that case, why not choose a wrangler (Jeep with detachable roof).
Most of the National car rental services offer service at any of the two international airports (ITO – Hilo and KOA – Kona) on the Big Island. If you have a clear favorite please go ahead and book with your rental agency of choice. Keep reading if you are willing to shop around to find the best possible deal on your rental car.
Find the best deals for Big Island rental cars
The price of a rental car depends on many factors, the most important of which are availability and the time left until picking up the car. As for timing, you should keep the "usual suspects" in the back of your head when planning your trip. Book early if you are going to be on the Big Island during popular events such as the Ironman triathlon (mid-October) or the Merry Monarch Festival (mid-April). Christmas is also a notorious period if it comes to renting a car.
We recommend the following strategies to get the best price:
Go local for low prices
The best way to find a good deal on a Hawaiian car rental if you book beforehand is to look for the local rental agencies. Besides, why not go local?
The island rental agencies have guaranteed discounts that they have negotiated with the rental car companies. You can find good rates with the following agency if you book and are willing to be flexible about the exact details of the make and model.
The following local booking site offers discount rates on car rentals in the state of Hawai'i:
We suggest that you have a look at e.g the rentalcars.com or priceline website if you feel more comfortable with using a 'bigger name' rental car comparison website.
Book early and wait for lower prices
If getting the best deal on a rental car is important to you we recommend that you book early at the local rental agency mentioned above. About 6 weeks before your departure is a good time to try again to find a better deal.
It is important to make your first reservation with an agency that allows cancellations without a penalty. At the time of writing, carrentalinhawaii allows this, but it is important to double check this before you make any commitment.
For example, a mid-sized 8 days car rental might cost $450 the first time you book 4 months before you arrive at Hawaii. Typically, this price will start declining down to say $240 at 1 or 2 weeks before arrival. The last days before arrival, prices can suddenly jump up to ridiculous prices again. We have seen examples where a car that was at its lowest $240 suddenly jumped up the $900 in the last days before arrival.
Another website that allows cancellations without penalty is rentalcars.com. (Complete refunds for fully prepaid bookings on cancellations 48 hours or more before your rental is due to start.  This information was last confirmed January 2017 at this URL)
Using this method can thus save you a couple of hundred $$$, but does require that you invest extra time in booking and re-booking. It works best for people that like to plan ahead.
Book early and play the "priceline game"
This method can potentially give you the biggest savings but should be combined with making an early booking in case nothing turns up.
Priceline is a website connects customers and car rental agencies via an online bidding system. You can bid whatever you want on a rental car, and if the rental agency accepts, the deal is 'locked'.
The advantage of this system are the potentially very low prices. 30% to 40% discounts compared to 'direct' booking prices are not uncommon. The disadvantage is that you are paying upfront and that you can not cancel/change/extend your agreement once your bid is accepted. A good rule of thumb is to aim for at least a 30% discount compared to the direct rate to justify this lack of flexibility.
If you use priceline far in advance it is best to start your bidding low because 'normal' prices are expected to drop (except around the really busy periods, in which case you should book early), and once you make a deal using priceline it cannot be canceled. Prices generally drop once the rental date approaches, but it is possible you won't find a good enough deal with priceline. It is important to already have an early booking so that you don't find yourself without a car on Hawaii.
Priceline works with many of the large car rental agencies such as Hertz (see note 1), Budget, National, Avis and Alamo, and the quality of the cars you rent is equal to the 'normal' car rentals. If you want to have a try you can go to the priceline website.
Better prizes for long term car rentals
If you are staying for more than 30 days and want to rent a car on the Big Island, have a look at e.g. island discount rentals. These people rent out more 'used' cars and have great prices on longer term rentals.
Can you take your rental car to Mauna Kea?
Most rental agencies do not allow you to take your car onto the really rough roads of Hawaii. In the case of your Hawaiian vacation this is relevant if you want to go stargazing.
The road to the summit of Mauna Kea between the Onizuka Center for International Astronomy and the telescopes on the summit is off limits for most rental cars. Another place you should not visit using a rental car is green sand beach.
If you want to drive up the mountain yourself (instead of joining a tour) you need a 4WD car. The only 4WD rental agency on the island that allows their car to be taken that far up is Harpers Car Rentals. Consider double booking a 4WD from them for a day in addition to your own rental car since this probably will be your cheapest option.
Don't get stranded, plan ahead!
On a final note: please be aware that there is a limited supply of rental vehicles on the Big Island we because we live on an island.
Special events such as the ironman marathon or the merry monarch festival frequently take up all available cars. Call ahead or make an early reservation if you don't want to be unpleasantly surprised upon arrival.
Because Hawaii is an island state, there is a limited supply of rental vehicles on the Big Island. Special events frequently take up all available cars.
footnote on booking your car with Rentalcars, Hertz and Priceline
We are part of the affiliate programs of Hertz, rentalcars, discounthawaiicarrental.com, and priceline. This means that we receive a small fee for every completed booking we send their way.  This way you can help us cover the costs to host and maintain this website *while* you are booking your trip to paradise. Read more on our participation with affiliates here.