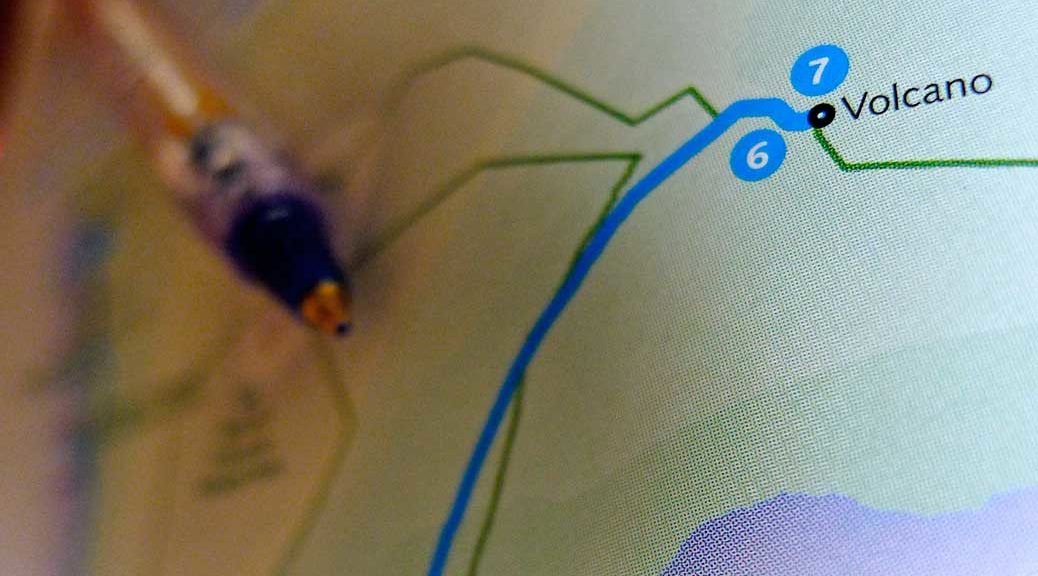 Big Island Essentials: start planning your vacation to Hawaii
Planning your vacation to the Big Island of Hawaii should start with deciding on the basics: when do you want to go, what islands do you want to visit, how long do you want to stay, and what are the unmissable things that you need to do or see.
On this page we discuss a few things that are very good to know while you are making these choices. They will doubtless prove valuable to help you prepare your visit to the Big Island:
By the way, we also have some kick-ass content for the next step in your planning: figuring out your itinerary!
Best Time to Visit Hawaii (weather and ticket price)
The temperature on Hawaii generally averages between 24°C / 75°F and 29°C / 85°F year round. The Kau (summer) on Hawaii stretches between April/May to October. Ho'oilo (winter) fills the other months. There is slightly more precipitation during the winter, but there is no 'bad' season to visit Hawaii – and visiting in the winter has some advantages!
Instead of thinking in terms of "Winter" and "Summer", a better way to plan your visit to Hawaii is to plan according to High Season and Low Season. Booking during low season will make your trip more affordable. Check out our "flights to Hawaii" guide to read more about finding the best/cheapest tickets to Hawaii.
Win 2.4 hours of sunshine/day for your trip to #Hawaii with good timing. June beats December!
twitter share
click to tweet
Finally, there is one simple thing that many people never think about: the length of day. There is a difference of 2 hours and 23 minutes in daylight between the shortest (December 21st) and the longest (June 21st) day on Hawaii. That means you will have up to 20% more daytime to enjoy the outdoors if you visit during the summer months!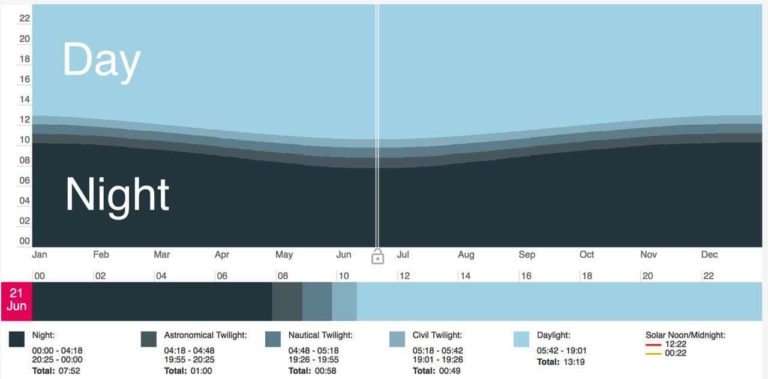 High Season on Hawaii
High season in Hawaii is split into two parts. The first part falls during the summer holidays (lots of family travel) and falls roughly between mid-June and the end of August. The second part of the high season falls between mid-December and mid-March when people are visiting to escape the winter at home. These visitors are also known on the islands as snowbirds.  March and April also draw some spring break vacationers.
Finally, The last week of April is also a very busy one on the Hawaiian islands. This week is called the "Golden Week" when visitors from Japan come over in large numbers because of national holidays in their own country.
Low Season on Hawaii
That leaves low season to be between mid-March and June and between September and mid-December.
Temperatures are great all year round, and the main reason for lower visitor numbers are logistic ones such as school holidays and the habit of people to not consider taking a holiday at non-traditional times.
The Big Island is far less crowded during the low season, and you will often find way better rates on your flights (100's of US Dollars!), accommodation and activities. In our opinion, the sweet spot to visit Hawaii is between mid-April and May, and in September and October. Just after the school holidays and before the winter holidays. Planning your visit during these months will often save you hundreds of $$$/person. (back to top)
Weather on the Big Island
Hawaii has a right to the claim of being a little paradise. At most places on the island, it is bound to be picture-perfect weather! Because of the volcanoes in the middle of the island, it might (and will!) also be raining at some spots on the island, but if you wait half an hour, or drive 5 miles in any direction, the sun will probably shine again!
Temperatures on the Big Island average a pleasant 85 F in the summer and 75 F in the winter at coastal elevation. As you go up higher temperatures can drop. In Volcano it is an average 5-15 F cooler than at the coast (detailed weather summary for Volcano), and if you make it out to the summit of Mauna Kea or Mauna Loa, it might be freezing.
We have written an in-depth weather guide for the Big Island for anyone interested in understanding the interesting weather patterns of Hawai'i. This includes hurricanes, why there is a wet side and a dry side on the Big Island, and interesting yearly average temperature/rainfall/cloud cover maps.
Rainy side vs. sunny side
The weather conditions can change drastically over the island in a matter of hours, but there is some consistency. The west side (Kona side) is called the 'dry side' of the island, and the east side (Hilo side) the 'wet side'. Both with good reason (detailed weather summary for Kona / detailed weather summary for Hilo)! Rainfall on the Kona side can drop to below 20″/yr at Puako, and an average of 60″-100″ /yr in Kona.  On the Hilo side you can expect up to 300+"/yr on the wettest spots, and about 200″/yr in Hilo. Luckily, most of this rain falls during the night, and it keeps this side of the island covered in lush rainforest. (back to top)
Big Island favorite activities and records
The five volcanoes that make up the Big Island define it in many ways. The most obvious are the omnipresent old and new lava flows, but also the many climate zones and ever changing weather are caused by the volcanoes. If there is one thing you shouldn't miss while on the Big Island it is the Hawaii Volcanoes National Park.
Other activities that consistently leave people gasping for air (in a good way) are the manta ray night dive and seeing the island from the air with a helicopter tour.
Finally, here is some trivia that will help you enjoy your time on the Big Island even more: Mt. Everest is not the tallest mountain in the world! Mauna Kea has top-to-bottom an extra 4000 ft.  We have dedicated a whole page to the things that we think make the Big Island unique.  Read out take in "The Big Island, an island of extremes".