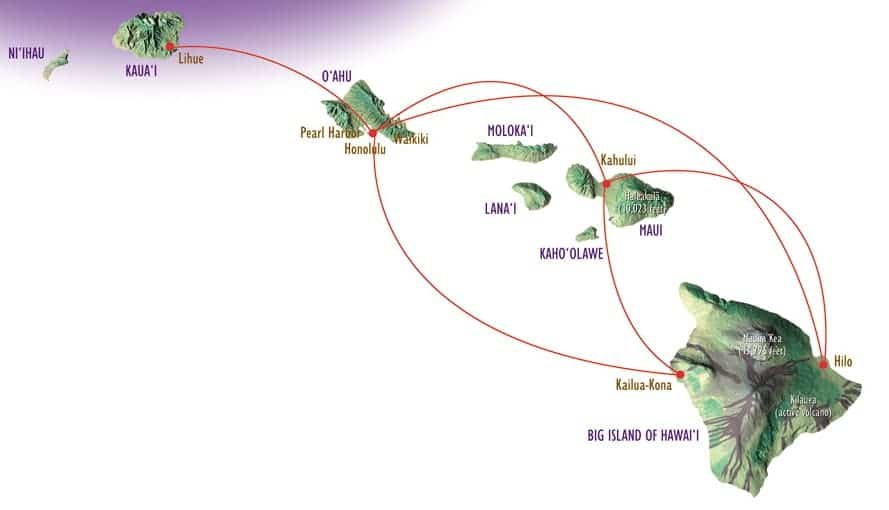 Inter Island Flights guide for Hawaii
If you are vacationing in Hawaii and want to see more than one island (and you should if time permits!), you will probably be taking several  short (~ hour) inter island flights between the different Hawaiian Islands.
The trick to booking an inter island flight is to find the balance between "lost time", in the form of a couple of precious hours of your vacation, and the opportunity to see yet another fascinating part of the Hawaiian Islands.
There are several things you can do to make these flights fit in well with your vacation:
Tl;dr Investing 10 minutes of your time now might save you hours of travel time on Hawaii.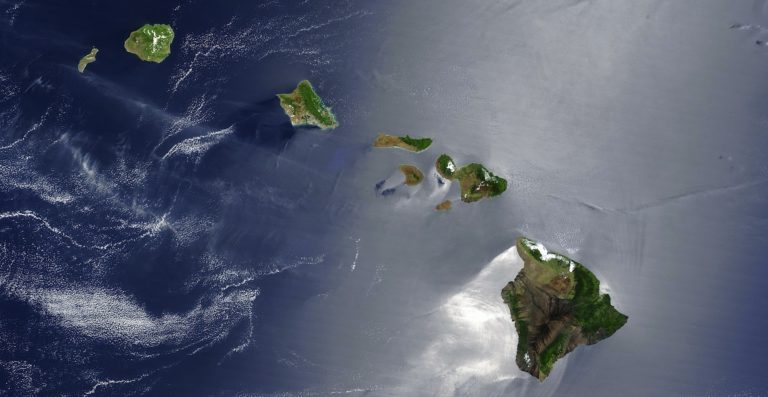 Airlines that offer inter island flights in Hawaii
There are currently three companies that offer inter-island flights: Hawaiian Airlines
, Mokulele Airlines, and Island Air. Go! Airlines and Aloha Airlines discontinued their inter island flights in 2014 and 2008 respectively.
You can buy your tickets directly on the websites of these airlines or through comparison websites such as travelocity or expedia. There will be little to no price difference between the two methods.
Island Air
Island air (website) operates a route between  Oʻahu and the Big Island as of June 14th, 2016. The nice thing about Island Air is their use of the 64-seat ATR-72 turboprop aircraft, which fly at lower altitudes than jets do, and that thus let you see more of the scenery below.
Hawaiian Airlines
Hawaiian airlines (website) maintain a high level of service (although some people say that it has been slipping the last decade), and has a good in-flight magazine to keep you entertained in the air and prepare yourself for your new destination.
Mokulele
Mokulele (website) is the lowest fare airline, but since the distances between the islands are small, price differences never get that noticeable. Of the three companies offering inter island flights, Mokulele is the one where the customer service is in most need of improvement.
Inter Island flight booking tips
The following 3 tips will help you to optimize your inter island flight schedule so you can spend as much time as possible enjoying your vacation:
Oahu's Honolulu Airport (HNL) is the central airport of Hawaii, while all other islands are often referred to as "neighboring islands". This is important for you if you decide to book a flight between to neighboring islands, say between the Big Island and Kaua'i. There is a limited amount of direct flights available, while many other flights are routed over Oahu. There can be a small price difference, but if you have to fly over Oahu you will easily lose another 3 hours of your valuable vacation time. We advise that you book direct flights whenever they are available, and perhaps even change the order in which you visit the islands if that means shaving many hours off airport visits.
Another point to consider when booking an inter island flight is the time of your flight. You will find that the cheapest flights are often very early in the morning or late in the evening.  Don't get to tempted to save $20 by booking such a flight without thinking about your check out and check in times. If you already have booked your accommodation, look up the check in and out times, factor in transport to and from the airport, and search for a flight that will connect the two as smoothly as possible.
Keep in mind that there are two airports on the Big Island: Kona international airport and Hilo international airport. If you are planning to spend time on both sides of the island (and why wouldn't you? A visit to the Big Island without a visit to the Hawaii Volcanoes National Park and one or two nights in Volcano Village is only half a visit), try to fly to one side of the Big Island and depart again from the other side.
Flights to and from Hawaii (long distance)
A trip to the Big Island almost always starts with a long flight to Hawaii of at least 5 hours.  This plane ticket likely covers a significant part of the total costs of your vacation. Read our flights to Hawaii guide to find out how to find the best flights to Hawaii, when to book, and where to look.
We use Hawaiian Airlines
We always try to use Hawaiian airlines for the reason listed above. If you are planning your trip it never hurts to check as many airlines as possible. By clicking the link below you will see the best deals Hawaiian airlines currently has on offer AND support this website. If in the end you decide to book your flight through Hawaiian airlines and follow the link we get a small percentage of the transaction (from Hawaiian Airlines, it won't cost you a thing). This, in turn, can help us to keep this website up and running. Read more on our participation with affiliates here.

(if you are using an ad blocker to enhance your browsing, please use this link to the Hawaiian Airlines website instead. Mahalo!)