Macadamia Nuts on the Big Island: visiting orchards and buying the nuts
Macadamia nuts are together with Kona Coffee two of the 'signature crops' of Hawaii – and they are good for your health!
Macadamia nuts grow on trees, and there are many macadamia trees in the Big Island: over 17000 acres! If you are interested in sampling these local gems, you can either visit an macadamia nut orchard and collect them yourself, or buy macadamia nuts on the farmers market or super market.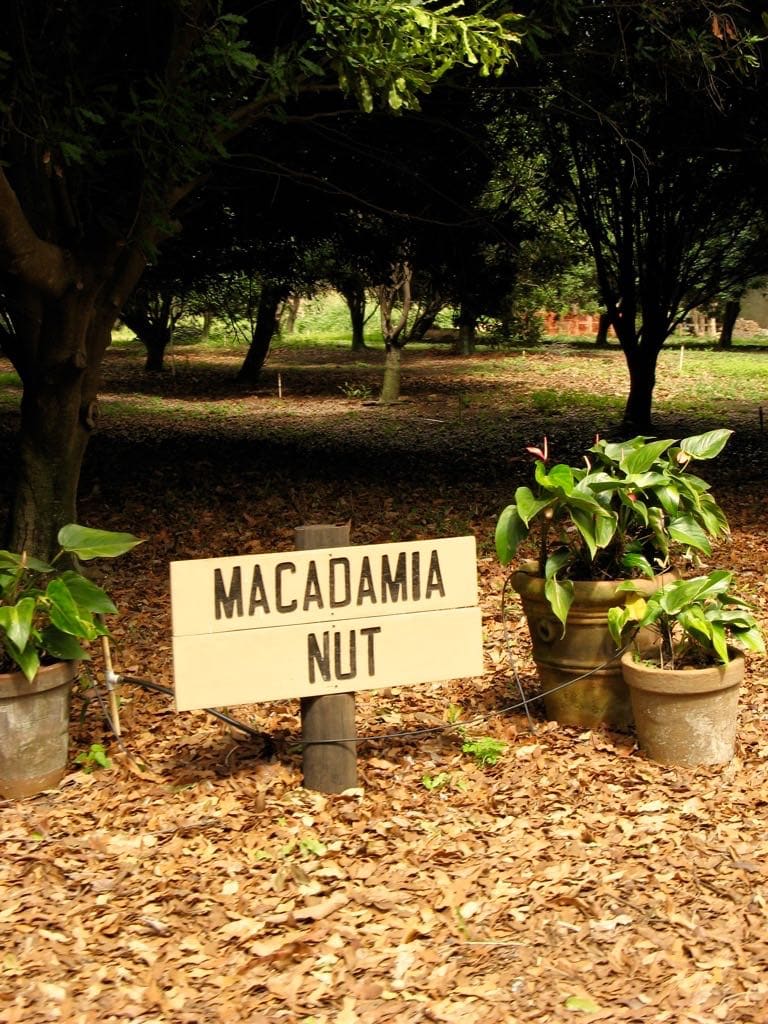 Macadamia nuts and Hawaiian Treats
Macadamia nuts are one of the 'signature crops' of Hawaii. Macadamias are used in different menu items, ranging from macadamia nut coffee, to macadamia nut pesto to macadamia nut butter. The nuts can be eaten raw or roasted, whole or chopped.
Some of our favorite macadamia snacks include chocolate covered macadamia nuts or white chocolate macadamia nut cookies. You are sure to encounter some of these items on your vacation on the Big Island and when you do, we heartily recommend you try them. Did you know that macadamia nuts also are extremely healthy?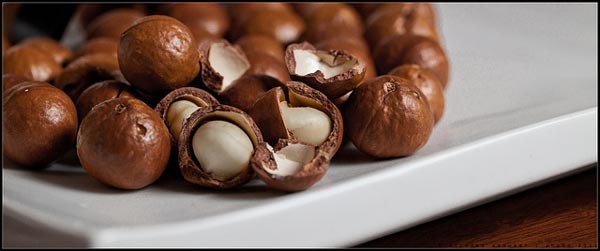 Macadamia nut health benefits
Macadamia nuts are tree nuts, just like for example almonds, hazelnuts and pistachios. Like these nuts, the macadamia nut has a claim on many health benefits. Macadamias are a good source of protein, calcium, potassium and dietary fiber and very low in sodium. The nuts may be fat, but they contain more heart-healthy monounsaturated fatty acids than any other nut! This is also confirmed in the scientific literature:
A diet based on macadamia nuts also has been found to significantly lower cholesterol levels! (Archives of internal medicine, Apr. 2000, source)
Another study in the Journal of nutrition (Apr. 2003, source) demonstrates that macadamia nut consumption as part of a healthy diet favorably modifies the plasma lipid profile (lipids are  a broad group of molecules that naturally occur in your blood) in men with high cholesterol levels despite their diet being high in fat.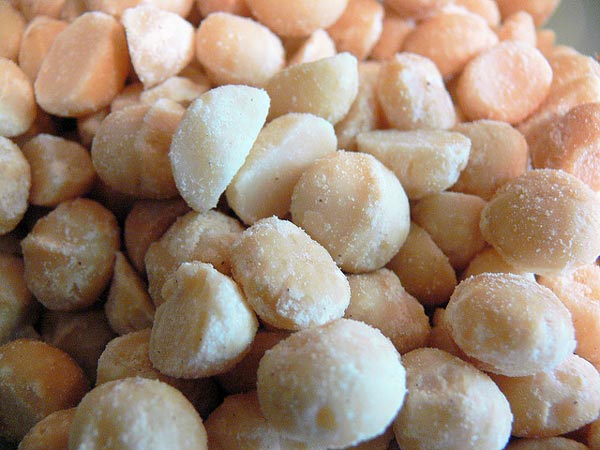 Visit a Macadamia nut orchard on the Big Island
If you want to visit an orchard yourself to pick up some macadamia nuts, you can go to the Mauna Loa Macadamia Nut Corporation (visit their website here), six miles south of Hilo on Macadamia Road, on the east side of the island. If you are on the Kona coast, try the Hamakua Macadamia Nut Company (visit their website here) on Maluokalani Street in Kawaihae. At Mauna Loa, you'll find a 2,500-acre orchard, a nut processing plant and chocolate factory. Hamakua offers a visitor center, self-guided tours and free samples.
Bed and Breakfasts in Macadamia nut orchards
If you like to go really 'nuts', you can spend the night at a macadamia orchard. This could be the perfect conclusion to a day of touring the Kona Coffee farms in the area. There is one B&B south of Kona that gives you this chance: the Macadamia Meadows Bed and Breakfast in Ka'u.