The two most popular farmers markets in the Kona area are the Kona farmers market in central Kona and the South Kona Green market in Captain Cook. There are however many more farmers markets in and near Kona that you can visit:
You will find information on the following 6 farmers markets in the Kona and south Kona district on this page:
Table of Contents
See our list of all farmers markets on the Big Island for an overview of all local farmers markets.
1: The Kona Farmers Market
The Kona Farmers Market is a large market located in the heart of Kona close to Kailua Bay. You can find plenty of fresh fruits and vegetables, flowers and hand-made local arts and crafts. This is a good place to stock up on healthy snacks (apple bananas or lilikoi are very handy to pack) for a day trip or to buy gifts to take home.
Directions and opening hours
The Kona farmers market is located on Ali'i drive just south of Kailua Bay in the heart of Kailua Kona. It is  open Wednesdays through Sundays between 7 a.m. and 4 p.m.
You can find more information on the unofficial website of the Kona Farmers Market.
2: The Pure Kona  Green Market
The Pure Kona green market Market (formerly known as the South Kona green market) is committed to sustainability, natural practices, and working with the earth to produce quality food and art for our local community.  Stop by to get their weekly produce,  enjoy a meal, and stay for the day.
For a more thorough review we recommend this report by Sonia Martinez for the Hawai'i homegrown food network.
Directions and opening hours
This farmers market is an all local farmers and artists market held at the Amy Greenwell Botanical Gardens at 82-6188 Mamalahoa Highway at mile marker 110, just across from the Manago hotel in Captain Cook . Market days are every Sunday between 9:00 am and 2:00 pm. You can find them on facebook here.
3: Alii Garden Market Place
Directions: 75-6129 Alii Drive, Kailua-Kona
Market days: Wednesday – Sunday from 9:00 AM to 5:00 PM
More information: directions and pictures of the Alii garden marketplace.
4: Ho'oulu Community Farmers Market
The Ho'oulu Community Farmers Market in held every Wednesday between 9 a.m. and 2 p.m. at the Sheraton Kona Resort & Spa at Keauhou Bay on the lawn fronting Kaleiopapa Street. The location provides plenty of free parking.
At the Ho'oulu farmers market you can find between 20 and  40 vendors who sell local produce, coffee, macadamia nuts, and locally produced arts and crafts. Compared to other farmers markets around the Big Island, this one offers more locally made arts & crafts and less fresh produce.
Directions: Sheraton Kona Resort and spa at Keauhou bay: 78-128 Ehukai Street, Kailua-Kona, HI. 96740
Market days: Every Wednesday between 09:00 AM and 2:00 PM
More information: Directions and pictures of the Ho'oulu community farmers market website
5: Keauhou Farmers Market
The Keauhou farmers market is held at the parking lot of the Keauhou Shopping Center. This is a smallish farmers market with a good selection of e.g. fruits, bread, fish, flowers and Kona coffee. You can listen to live music while you have your breakfast at the market, or drink a freshly squeezed glass of juice.
All in all a good way to spend your Saturday morning, especially recommended if you are staying close by.
Directions: Keauhou Shopping Center, fronting Ace Hardware. 78-6831 Alii Drive, Kailua-Kona, HI 96740-2440
Market days: Saturdays between 8:00 AM and 12 PM (noon)
More information: more information, pictures and directions for the Keauhou farmers market.
6: South Kona Fruit Stand
The south Kona fruit stand is not a farmers market but a single fruit stand. They are open open 7 days / week and offers a good selection of exotic fruits, baked goods and smoothies.
Their prices are a bit higher than those on farmers markets but the smoothies are world class and the have a sitting area that overlooks the ocean. This is a good place to stop for a snack (try some new fruits you have never tasted before), but less of a place to stock up on fruits for the week.
Directions: Near the old Higashi Store on the 'Ma Uka' side of the road, between mile marker 103 &104. 84-4770 Mamalahoa Hwy, Captain Cook
Market days: Monday to Saturday from 9:00 AM to 6:00 PM,  Sunday from 10:00 AM to 4:00 PM
More information: more information, pictures and directions for the South Kona fruit stand
7: Palisades Farmer's Market
Tucked away on a mango farm at the bottom of Palisades close to the Kona airport, the Palisades farmers market is the newest market on the island. Since their opening April 2021 they now have 30+ vendors including local farmers, artisans, small businesses, great food and live music.
The market at 'Ili Kupono Gardens is currently schedule to happen from 8 a.m. to 2 p.m. on the first Saturday of every month, but keep an eye on their facebook page as new markets like this sometimes take some time to settle on a definite schedule.
Directions: Just east of the Kona airport at 73-4261 Laui St, Kailua-Kona, HI 96740
Market days: Every first Saturday of the month from 8 a.m. to 2 p.m.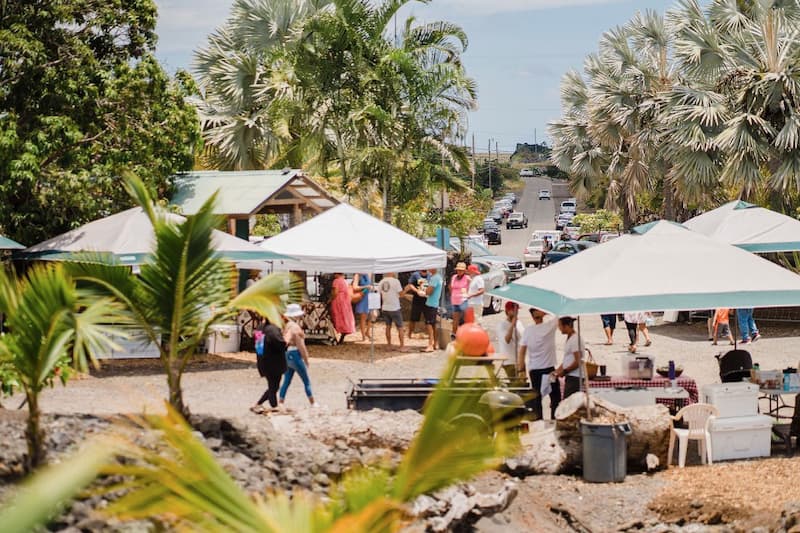 Farmers markets on other parts of the Big Island
You can find farmers markets all over the island. Because most markets are only open one or two days of the week visiting them requires some preparation. You can find more information directions and opening days on the larger farmers markets here: