Staying in a resort is the most luxurious lodging option on the Big Island, and takes almost all the chores of planning your vacation out of your hands. We recommend staying in a resort if you want an ultimately relaxing vacation, and don't mind paying for it. The resorts in Kona offer on-site luxuries such as relaxing spa's, world-class golf courses and private swimming pools and tennis courts. Below we list some of your options for resorts in Kona:
If you are looking for deal at the resorts listed below a good place to start looking is the Hawaiian Islands section of the Expedia website
1.
Royal Kona Resort
The Oceanfront Royal Kona Resort is an architectural marvel set on twelve oceanfront acres overlooking Kailua Bay in the heart of historic Kailua-Kona town on the Big Island of Hawaii. Their on-site recreation includes: a Split-Level Swimming Pool, a Private Saltwater Swimming Lagoon, the Royal Kona Tennis Club, a Fitness club, a Massage and Spa center, and the Royal Kona Luau –a festive oceanfront Luau show.
Four Seasons Resort – Hualalai
The Four Seasons Resort Hualalai at Historic Ka'upulehu offers more than ever to explore – with a newly expanded Spa, beachfront dining, fashion boutiques and new Deluxe Suites, in addition to Jack Nicklaus signature golf. Set on the Big Island's exclusive Kona-Kohala Coast, this showpiece oceanfront resort captures the essence of Hawaiian design, culture and tradition.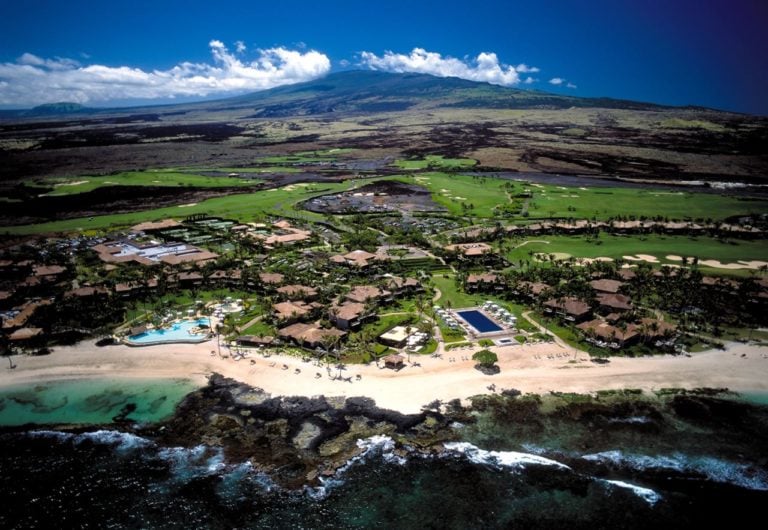 Sheraton Keauhau Bay:
The Sheraton Keauhou Bay Resort & Spa crows an ancient lava flow cascading into the waters along the Kona coast of Hawaii's Big Island. It offers everything from rejuvenating spa treatments to an entertaining luau. Perhaps most spectacular is their multi-level fantasy pool, the Manta Ray Super Slide & Pool. Situated at the heart of the resort, this enormous fresh-water pool includes its own sandy-bottomed children's play area, the island's longest water slide and bubbling whirlpool spas.
As an added local bonus, the Sheraton Keauhou hosts the Ho'oulu farmers market every Wednesday on its lawn.
Kona Village Resort
Kona Village Resort is located on the Kona Coast of the Big Island of Hawaii. It's perfect for Hawaiian honeymoons, family vacations and executive retreats. Think: private thatched-roof cottages open to the beach and lush lagoons.
The Kona village resort has been closed since the march 2011 earthquake, and it is unclear when the repairs will be completed. You can check their website for the current status
---

1. We are part of the Expedia affiliate program. Read more about our participation. ↩