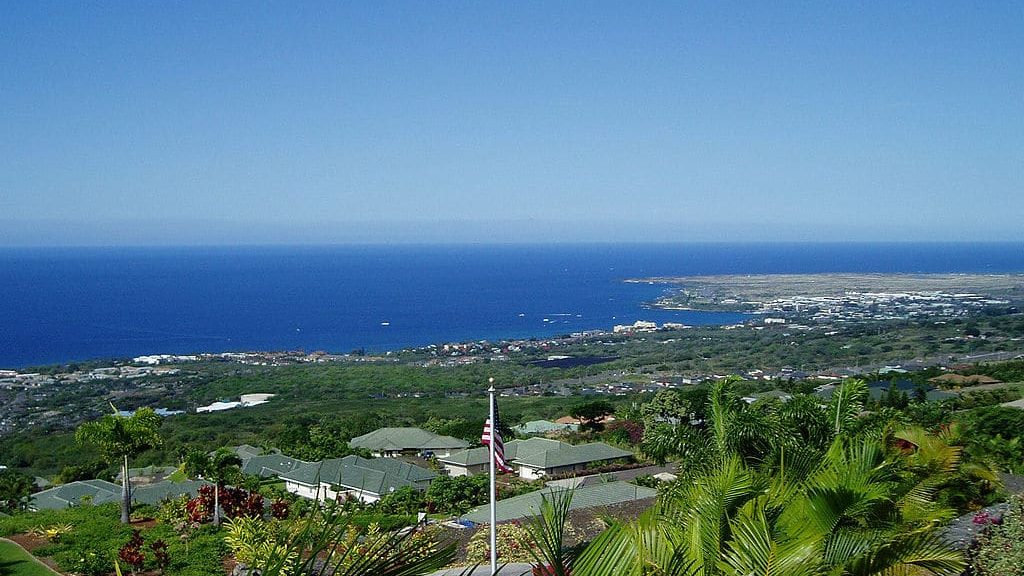 Kailua Kona on the Big Island of Hawaii
Kailua Kona is referred to both as "Kailua" or "Kona" by locals. The weather on this side of the Big Island is almost always dry and sunny and there are many white sand beaches perfect for sunbathing, snorkeling and swimming that are easy to reach from Kona.

Our guide to Kailua Kona  is structured as follows:
The Kona side of the island is also known for the world-famous Kona coffee and lush green golf courses.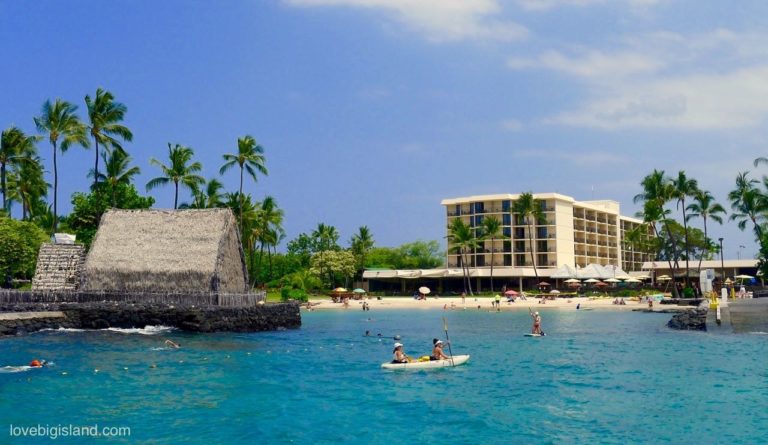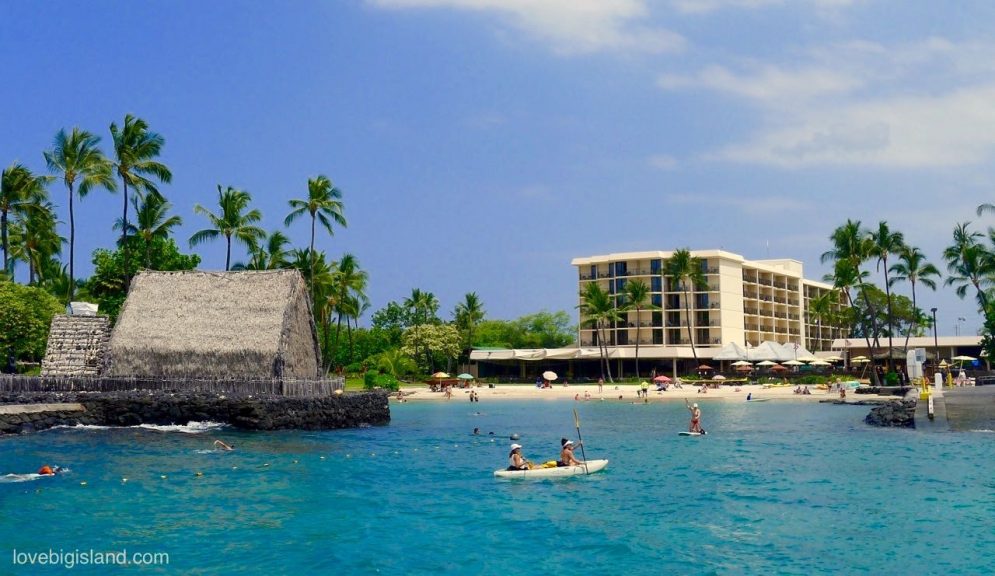 Kailua Kona: the sunny outdoors capital of the Big Island
The west coast of Hawaii is known as the "Kona Side", and Kailua-Kona is the lively center of it all. The historic seaside town of Kailua-Kona is placed in the middle of the Kona coast, a few miles south of the Kona International Airport (KOA).
Not too long age Kona was a sleepy fishing village. Now it has transformed into a lively town and is the activity capital of the Big Island. Kailua Kona is the city on the Big Island that is best equipped for tourism. There are many shops and farmers markets selling often locally produced items, and there is a good offering of restaurants. This makes Kona a good and central home base to explore this side of the island.
Relax and look at the waves crashing over the black lava rocks while sipping from a cup of the world-famous Kona coffee, or have some freshly caught ahi (tuna) while recovering from your busy day.
Outside the Kona city limits there are many beaches, historical sites and places to play outside:
Things to do in Kona
If you are staying in Kona we recommend that you get up early at least one time to go snorkeling at sunrise at King Kam beach in central Kona on Ali'i drive. There are, by the way, plenty more places to snorkel close to Kona.
Another thing to do while you are in Kona is to take an afternoon stroll over the "see-and-be-seen" Ali'i Drive. You can end your walk at the Kailua pier or at any of the restaurants along the seaside to watch the sunset. Why not also take a local favorite, the Mai-Tai, or one of the many local specialties, such as the Kona Brewing Company's handcrafted ales?
Around Kona there are plenty of activities. Have you already heard about the Manta Ray night dive? About the local seahorse farm, or about the lush coffee country, botanical gardens, and national parks to the south?
Read a more complete collection of things to do in and around Kona in our "activities in Kona" guide. If you don't want too have too many options and don't mind following our suggestions have a look at our 5 favorite highlights in Kona.
Directions to Kailua Kona:
Kailua Kona is the landing place for most visitors to the Big Island through the Kona International Airport. From Kona, the public transport service the hele-on bus can bring you all over the island if you are not in a hurry. Hilo  (86 miles, 2 hr 20 min), Waimea (40 miles, 1 hr 10 minutes), and Volcano Village (95 miles, 2 hr 15 min) are all easily reachable by car. (back to top)
Kona practicalities:
Kona truly is a small piece of paradise, and your largest concern likely is getting a sunburn. The weather is often warm and sunny, so do not forget to wear plenty of sunscreen. If you venture out to one of the many beaches or hikes, remember to take plenty of water. (back to top)
The Weather in Kailua Kona:
Kona lies on the leeward side of the Big Island, which means that weather in Kona is in general sunny and dry. You can find pleasant temperatures year round, with sunny mornings but sometimes cloudy afternoons.
If you want to know more about the weather in  Kona have a look at our monthly average weather guide for Kona. You can find information at that page on the average temperature, the number of hours of sunshine, the amount of cloudy days, and the amount of rain.
Interactive Map of Kailua Kona:
We have added what we think are the most important stops and activities in Kona on an interactive map. Click any icon to find more information about that local activity, shop, or hotel/vacation rental.  (back to top)
Are you looking for the map of another part of the Big Island? We also have interactive maps of Waimea, Volcano Village, and Hilo!