With six major islands and so much to do, planning a trip to Hawaii can be difficult. Which island(s) should you choose, and how much time should you spend? Which island is best for your desired activities?
Ideally, everyone could visit every island, but we know that's unrealistic. So, to help you decide, we've been breaking down the islands to see how they compare to each other, and to help you get a sense of which may be the best fit for you. In this edition, we break down Maui versus the Big Island.
Table of Contents
For more breakdowns you should have a look at our comparisons of
Maui vs. Oʻahu
, the
Big Island vs. Oʻahu
, and
Kauaʻi vs Oʻahu
.
The Big Island and Maui in a nutshell:
It's not fair to try to sum up an island in a single article, but for the sake of trip planning, it's important to know how the islands compare to each other – what they have in abundance, and what you may find lacking. This will help you map out your trip, choose the island that best fits your desires, and arrive with proper expectations.
Below, we give basic overviews of Maui and the Big Island, followed by a breakdown of how they stack up against one another.
The Big Island
It's all about environmental diversity on the Big Island. From the snowy summit of Mauna Kea at more than 13,000 feet, to the breathtaking white, black, and green sand beaches along the coast. If you like volcanoes, outdoor adventures, open spaces, and an abundance of nature, the Big Island will treat you well if you're willing to get out and explore.
Recommended minimum stay: 7 days
Good to know for the Big Island: Renting a car is essential to get around on the Big Island, as there are large distances to cover between points of interest. For example, it's a 1.5-2 hour drive between its two main hubs, Kona on the west coast and Hilo/Hawaii Volcanoes National Park in the east.
Don't miss these 3 things: Experience nature up close and personal with the Manta Ray night swim/snorkel/dive; Explore volcanology at Hawaii Volcanoes National Park; Watch the sunset and stargaze on Mauna Kea.
Maui
Maui represents everything that people think of when they picture Hawaii: sprawling white-sand beaches, volcanoes, palm trees, and agriculture. Though it does receive a lot of visitors, Maui's overall vibe stays calm and collected thanks to the fact that it lacks a big city. Instead, it offers guests a number of small beach towns to explore, each with its own personality. Its natural landscape features two large volcanoes, a whale watching and breeding ground, and remote areas like Hana.
Recommended minimum stay: 5 days
Good to know for Maui: One aspect of Maui that often goes overlooked is its "up-country" lifestyle; that is, the belt of small farms on the hillsides of Haleakala. The town of Kula, for example, is a collection of small farms (lavender, coffee, pineapple, protea), and offers a different perspective on life in Hawaii.
Don't miss these 3 things: Hike through Haleakala Crater; Spend a day enjoying the beaches of south and west Maui; Take a boat trip out into the Auau Channel (especially during whale season).
What island should you choose if you like …
Deciding which island to visit comes down to deciding which factors are the most important to you. Here's how the Big Island and Maui compare:
Outdoor adventure: Big Island
Maui is no slouch when it comes to outdoor opportunity. It is home to Haleakala, a 10,000-foot volcano, and an abundance of opportunities in and around the ocean.
But, there's just no beating Big Island in this regard. The island is about the size of the state of Connecticut, and all the other islands combined could fit inside of it. In terms of terrain, the island contains eight of the world's thirteen ecosystems, and it's home to the State's most famous national park, Hawaii Volcanoes Natural Park.
If you're looking to explore the outdoors and natural world, the Big Island provides the most opportunity.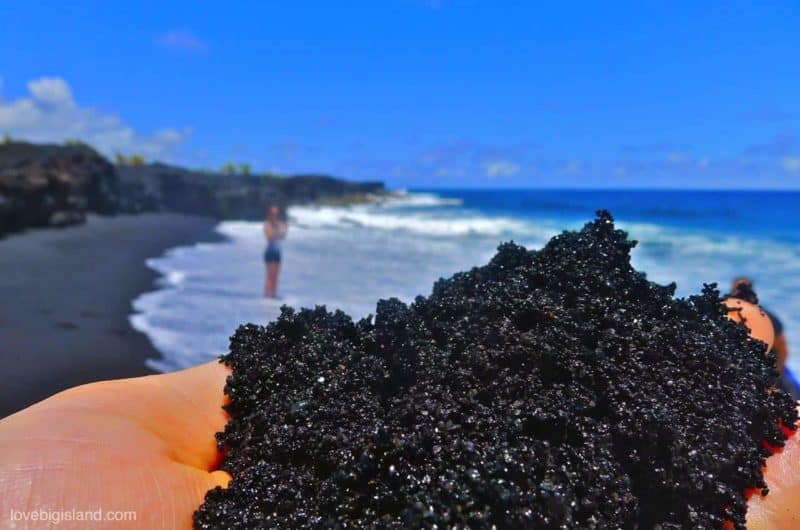 Beaches: Maui
There's no contest here. Maui's shores have some of the best beaches in the entire state, and the Big Island's young, rocky, volcanic shores offer very little in the way of soft white sand. If it's the beaches you crave, Maui is the clear choice.
Volcanoes: Big Island
Made up of five volcanoes, the Big Island is the only island in Hawaii with an active volcano, Kilauea, and it's considered one of the most active volcanoes anywhere in the world. The University of Hawaii in Hilo has a top volcanology program, with researchers descending from all over the world. Mauna Kea, the world's tallest volcano, is home to some of the most powerful telescopes on earth.
Visitors to Maui won't be without a volcanic experience, though. The island is made up of two volcanoes – Haleakala and the West Maui Mountains. Both provide opportunities for exploration and hiking, but the nod goes to the Big Island for its extensive opportunities.
Food, Drinks, and Nightlife: Maui
Despite its size, the Big Island only has two hubs that cater to dining and nightlife: Kona and Hilo. Kona has an abundance of bars and restaurants, but lacks in overall variety (it's mostly casual, seaside eateries with similar menus). Hilo has a couple good local spots, but is generally a very sleepy town.
Maui, on the other hand, brings more extensive dining opportunities to the table. Each of its small beach towns – including Lahaina, Paia, and Kihei – are littered with local restaurants, and its hotels in Kaanapali and Wailea provide upscale dining experiences.
If you're a foodie in search of high quality and variety, choose Maui.
Variety: Maui
Maui has a little bit of everything. It has two volcanoes, white sandy beaches, off shore islands, world-class surf breaks, whale migrations, and many small beach towns. The island is compact enough where you can enjoy multiple activities in one day without much travel, which is not always possible or convenient on the Big Island. If your travel plans include a little bit of everything, consider choosing Maui for its well-rounded offerings and great accommodation options.
Getting Started: Sample Itineraries for Maui and the Big Island
For the Big Island, check out our 7-day itinerary or find a shorter one in our itinerary section.
For Maui: Our Maui overview article and 8 day itinerary are both great ways to get started with planning your trip.