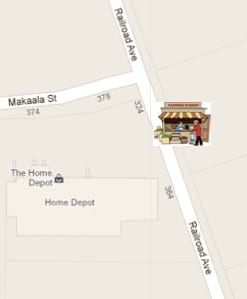 The Keaukaha Pana'ewa Farmers Market Farmers Market is located at 363 Railroad Ave in Hilo across from the Home Depot parking lot.
The market is opened Saturdays between 07:00 AM and 1:00 PM. You can find stalls there selling locally grown vegetables, fruits, plants, baked goods, food items, jams, jellies,fish, Hawaiian crafts, and other Agricultural products.
Try to drop by if you are shopping for groceries at the shopping mall next door for a more local taste of Hawaii.
Please visit the Keaukaha Pana'ewa Farmers website for the newest updates if you are considering visiting to them.
(back to listing of all farmers markets on the Big Island)
Keaukaha Pana'ewa farmers market pictures
We currently have no pictures of the Pana'ewa farmers market but this photo of the empty plot on which is is held every weekend from google street view. Please get in touch with us if you want to submit your own pictures.