Biking on the Big Island is rarely considered by tourists, and commonly thought of as "something only those crazy triathlon types would do". However, it can be very rewarding to rent a bike during the day and cruise around town and along the shore, or to head into the rainforest on your mountain bike.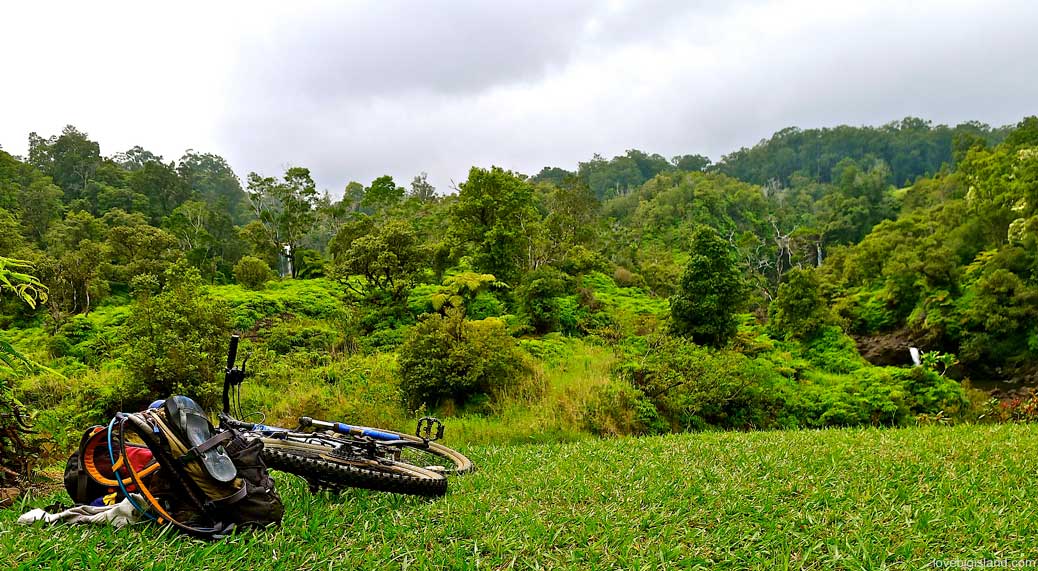 Biking is a so much better option than the car if you want to take in the surroundings. You can stop anytime and everywhere, ride at your own pace and take in the sounds, smells and colors from up and close. We heartily recommend biking in the Hawaii Volcanoes National Park and along the winding coastal roads!
Biking in Hawaii Volcanoes National Park
The best (and most dramatic) place to bike on the Big Island is without doubt the Hawaii Volcanoes National Park. There are trails for every skill set and age, and the biggest challenge will be to get your bike up to the park. The national park has prepared information on "how to bike the volcanoes" with all bike trails inside the park, as well as safety information and some handy pointers. If you like a challenge, go for the Mauna Loa summit!
Biking safety
Please, take good care of your own safety! Drivers on the Big Island drive with more aloha than on the mainland, but still people are not as used to bikes on the road as for example in Europe. You should wear head protection (which is included at most bike rental shops) and stay away from roads that are frequently used by cars, or at least ride your bike on the soft shoulder of the road if there is no other option.
Bike rental shops
It is possible to rent a bike in Hilo and in Kona. Expect to pay between $20 (basic hybrid bikes, 20+ gears) to $60 (all the works, carbon fiber) for the first 24 hours, with a steep discount for following days.
If you are looking for more than a leisure bike ride, have a look at the Big Island Bike Guide from PATH for bike trails around the Island.

Biking along the coast can be a nice group activity that takes you off the beaten path and away from the more crowded spots
Bicyle Tours: up and down the Volcano!
If you would rather not deal with renting equipment and getting your bikes to those spots you want to explore, you can join an organized bike tour. These tours include all rental equipment, interpretive guides and supplies for on the road, take between 3 and 7 hours, and start around $100 pp. For a day trip, we can heartily recommend the tours organized in and around the Hawaii Volcanoes National Park by bikevolcano.com.