Rental cars in Hilo | Find the best deals
It's easy to pick up a rental car in Hilo if you arrive by airplane or cruise ship. At the Hilo airport you find seven rental car companies: Advantage, Alamo, Avis, Budget, Dollar, Hertz and National (source).  The offices of all these agencies are located on the other side of the road from the arrival and departure terminal.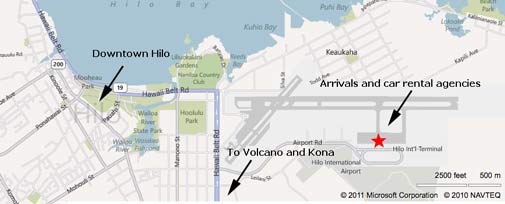 There is no public bus service to or from Hilo airport. If you don't have a rental car your transport from the airport would have to be either by taxi or personal pick up. Hilo International Airport (ITO) is located on the edge of Hilo, about 3 miles from downtown.
For rental car booking tips we highly recommend that you have a look at our guide:
How to find the best car rental deals on the Big Island of Hawaii. Recommended car rental agencies and 4 booking tips for the lowest prices.