Volcano Village is one of those places that seems to be made for the use of vacation rentals. The lush rain forest hides many private cottages where you can spend the night telling stories in front of the fireplace or soaking away in the hot tub after a full day of exploring the Hawaii Volcanoes National Park.
There are no large resorts close to the national park and there are only a few hotels scattered around the area. We love this because it lets Volcano retain its unique character: that of a small  village tucked away in the rain forest on the slopes of a volcano.
This is an overview of the places we recommend for a good night's rest for any budget:
Vacation Rentals in Volcano Village
As mentioned twice before on this page, we have an immense preference to vacation rentals when it comes to spending the night in Volcano Village :)  Have a look at some of our favorite places to stay at to see why: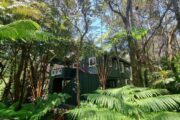 The many vacation rentals in Volcano Village on the Big Island vary widely in price/quality and luxury. These are our favorites.
Other accommodation options in Volcano Village
There are some alternatives to staying in a vacation rental such as an upper end Hotel in the village and in the Hawaii Volcanoes National Park, as well as a couple of bed and breakfasts.
For most visitors a vacation rental will be the better (and cheaper) choice for spending the night in volcano village. We offer a word or two of advice on choosing the accommodation that suits your needs. in case you are not sure yet about how you would like to spend your nights in Volcano,